Everyone needs a go to food they can make when you have a friend over for lunch.  For me, it is a sandwich I found in a Cuisine Lite magazine years ago and I am addicted to it.  There are certain friends who have come to expect this delectable delight during our girls lunches and I am happy to oblige.  The recipe that Cuisine Lite has created is supposed to be figure friendly, however, I sometime switch things up for a less healthy but even yummier bonus.  Thankfully, this meal is eaten during a play-date and is typically followed by us running after rambunctious toddlers.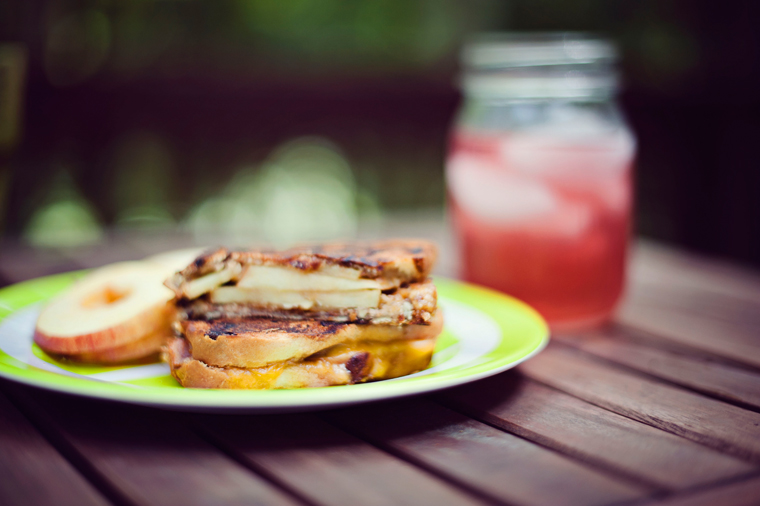 Calories: 361
Makes 2 servings
Total time: 20 minutes
2 strips of low sodium bacon (have used regular bacon as well..typically Oscar Meyer, which is my favorite)
1/4 cup pecans
1/8 tsp kosher salt
Pinch of cayenne pepper
2 Tbsp. water
4 slices of whole-wheat cinnamon raisin bread (I have also thick sliced Cinnamon raisin bread and it is amazing but obviously more calories.)
1 Granny Smith or Brae-burn Apple, cored and thinly sliced (I have also used gala apples and also takes good)
2 oz. 2% sharp Cheddar Cheese, sliced
Preheat panini press to medium.  (I actually use one of those panini pans with the heavy metal weight that you place on top and cook on your stove top…inexpensive and gets the job done.)
Saute bacon in a skillet until crisp, about 8 minutes.  Transfer bacon to a paper-towel-lined-plate.  Discard drippings remaining in skillet.  (I will leave a little bit extra for flavor when I don't intend this to be super healthy.)
Toast pecans in skillet over medium heat until golden, 5-8 minutes; toss with salt and cayenne.  Transfer pecans to a food processor; pulse  until paste like.  Drizzle in water as needed; pules into mixture is smooth.
Divide pecan butter among each of 2 slices of bread; top each with apple slices (I make them fairly thin but then stack about 4 slices in a sandwich) and half of the cheddar.  Tear bacon strips in half; place 2 pieces on each sandwich.  Top sandwiches with the remaining 2 slices of bread.
Place sandwiches on the panini press; grill until cheese melts and bread is toasted, about 5 minutes.  Let sandwiches cool slightly, the cut on the diagonal to serve.
Per sandwich:
361 calories
14g total fat
592mg sodium
37g carb (&g fiber, 16g total sugars)
16g protein
3mg iron
171mg calcium
BON APPETIT!!!
Please let me know if you make this sandwich and enjoyed it.
XOXOXOXO
Claire