Another installment of KIDS WERE HERE.  Last month we only did a Facebook post because it was the end of summer and things were wrapping up.  This gave us more time for our family and more time to prepare for this month's installment.  As I write this I am thinking of my little guy who will be starting his first day at a new preschool.  His first non early intervention school because he kicked some major behind and graduated onto the next level.  I am nervous because it is another new situation and much more grown up.  No more bus and no more fabulous student to teacher ratio with multiple therapists.  He will now be going from half day to full day three times a week.  Thankfully that will allow me more time during the day to get things accomplished with my work, instead of staying up until late into the night.  It will also allow me to concentrate more on him for the two days he is off during the week.  However, I will miss his constant companionship.  He is such a joy to be around.  This is another big step into becoming a big kid.  It will be good for him and he will enjoy it but I already know that he is scared about this new adventure.  He already told me that he will be shy tomorrow, which is completely understandable.  He is trying his best to be brave and is already doing better than I was at that age.  This project has truly helped me appreciate that these little messes and remnants will only be around for so long and that I should treasure them.  (Even though it would be nice to have a clean house from time to time, I know this is temporary.)   I am so grateful that I am able to be here for him on a regular basis and that I haven't had to miss out on the little things as well as big things.  I am also so thankful to be a part of this project so I am reminded to capture these little details that will be huge memories for me one day.
Bought this truck 2.5 years ago at a consignment sale and he never played with it.  He got a new and bigger one as a present so I was ready to sell this one.  Of course it instantly became his favorite toy.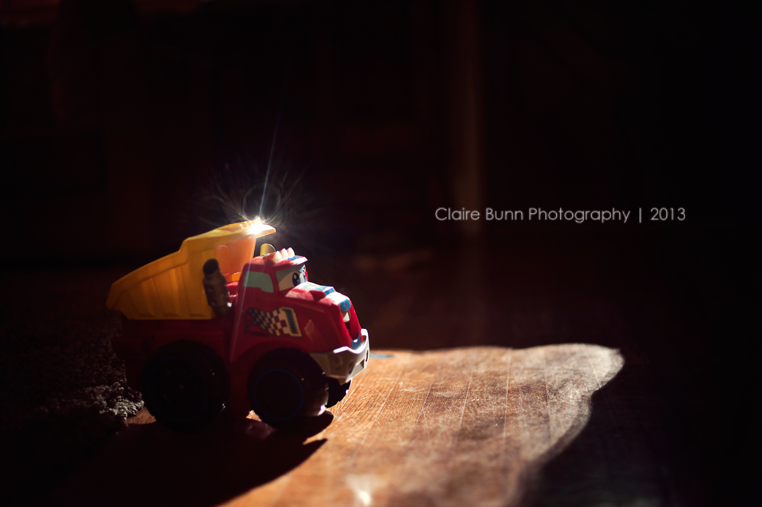 Both my son and daughter have used this toy as babies.  It is the kind that attaches to the car seat.  The trunk is apparently great to chew on.
This is Dolly.  She is my friend's daughter's favorite toy.  She is VERY well loved.
So much of my son is in this image.  He loves his pretend food and uses it in a variety of ways.  Has been a Thomas fan for years.  Loves letters, numbers, and everything about learning.  Oh and lining things up…that too.
Sometimes those fake foods end up under our furniture for lengthy amounts of time without us realizing it.
Look down after Gavin has eaten a banana because banana peels are often found left about.
Sometimes the box your canvas comes in becomes a fort.
TURBO was the first movie Gavin saw in the theaters.  He LOVED it.
Pancakes are a ritual in our house.  His father makes them more even and perfectly brown.  I make them into fun shapes like trains.  Not sure who wins that one.
This is not called "Frosted Mini Wheats"…it is called "Cereal".  I should alert the company.  Sometimes we find this "cereal" with only the sugar eaten off of it.
This little picnic was actually from a shoot with some friends.  Their daughter set up a wonderful little picnic for me.  I look forward to doing the same thing with my daughter when she gets bigger.
Please check out the work done by the many very creative and talented photographers participating in this project at the Kids Were Here website.