This is the second posting of an amazing project that I am fortunate enough to be a part of called: KIDS WERE HERE.  This is a project that teaches parents to appreciate the everyday evidence that your kids leave behind because they won't be little forever.
My daughter is just a couple of months old and obviously needs a lot of attention.  Her big brother is doing a good job of sharing the undivided attention that he was given for so long.  It is easy to get wrapped up in a new baby so I wanted to make sure that this month I paid extra attention to my son.
Now that the weather is improving, we are finally spending a lot more time outside on our front step.  Do you think the Lion will scare anybody away? lol
My son loves all creatures great and small…and lining things up…hence:
Nothing melts my heart more than when my son comes running into the house with a present from our yard.
He gave me this foam heart out of the blue and it is a great reminder why I am editing a photo session at 3 am.
Our refrigerator has gotten a bit crowded but I can't bare to take anything down.  This project reminds me there won't always be new artwork donning the walls.
One of my cherished possessions..a craft done at preschool that brought a tear to my eye when I first saw it.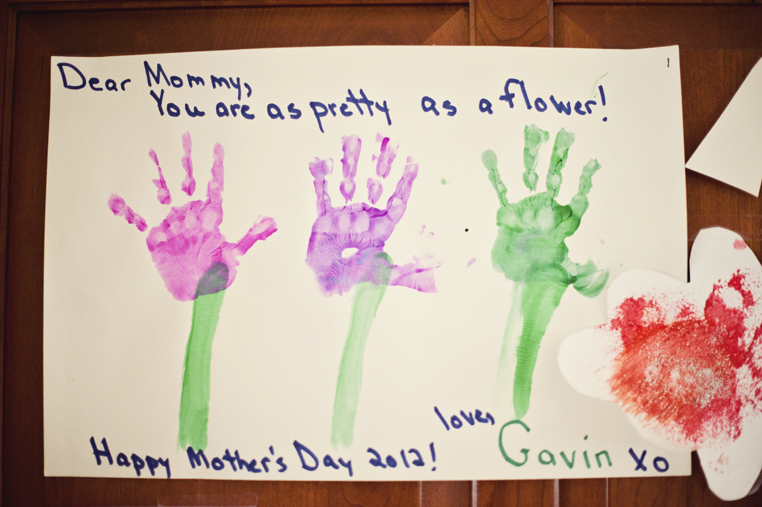 Trains are a big deal in our house…we even eat dinner with them.
My 4 year old is used to having a camera shoved in his face and has even started requesting his picture to be taken now.  However, this project has helped me slow down a bit to really pay attention to the little details in life.  I don't think I would have analyzed things so closely or took a moment to appreciate the little bits of evidence that children live here without participating.  The images captured during this journey will be treasured forever because it will help me keep hold close the priceless memories formed during our every day lives.
Fellow photographer and participant in this project, Stephanie Beaty, phrased it perfectly:
"These still life images serve as a daily reminder that my days are awash in chaos, whimsy, laughter and laundry (sometimes all at once). They capture toys and spills and puddles and piles. Sentimental, solitary moments of childhood ephemera. A gentle prodding to live in the now and stop looking toward the "then." And though sometimes I pray for clean and quiet and still, I know all too well it will come. And I will yearn for tiny shrieks of laughter in my bedroom. For toys and loveys strewn about. For signs of a daily life well lived. For traces of my babies who once were. For reminders that Kids Were Here–and they were life and light and love." – Stephanie Beaty
Please take a moment to check out the insanely talented photographers that are a participating in this project.
If you would like to participate in the KIDS WERE HERE project, feel free to grab the badge below and put it in with your blog.  Or you could participate through FLICKR.
–