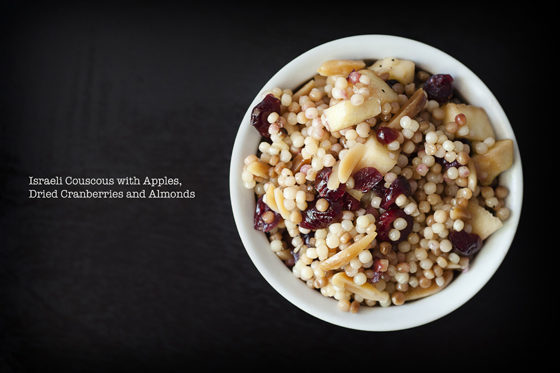 YOUR NEW FAVORITE PARTY DISH
ISRAELI COUSCOUS W/ APPLES, CRANBERRIES & ALMONDS
Let me start off saying that I am at best a decent cook, who is surrounded by many very talented cooks and they have taught me a trick or two.  I like to learn very easy recipes with minimal skills required and then share these little gems with family and friends, or anyone who will listen.
The first dish I would like to highlight is actually a variation of Giada DeLaurentis's Israeil Couscous with Apples, Cranberries and Herbs.  You can access her direct recipe here.  However, my mother and I are not really herb people so she modified it and I prefer her version.
Ingredients
Couscous:
2 tablespoons olive oil
2 cups Israeli couscous (or barley or orzo)
1 3/4 cups low-sodium chicken broth
1 medium green apple, diced (I often use Gala apples because the green apples can be very tart out of season)
1 cup dried cranberries
1/2 cup slivered almonds, toasted, see Cook's Note
Vinaigrette:
1/4 cup apple cider vinegar
2 tablespoons maple syrup
1 tablespoon kosher salt
1/2 teaspoon freshly ground black pepper
1/4 cup olive oil
Directions
For the couscous: In a medium saucepan, heat the olive oil on medium-high heat. Add the couscous and cook, stirring occasionally until slightly browned and aromatic, about 3 to 5 minutes. Add the chicken broth and bring to a boil. Simmer for 10 to12 minutes or until the liquid has evaporated. Transfer the cooked couscous to a large bowl and set aside to cool. Add apple, dried cranberries, and almonds.
For the vinaigrette: In a small bowl, combine the vinegar, maple syrup, salt, and pepper. Whisk in the olive oil until smooth. Pour the vinaigrette over the couscous and toss to coat evenly. (I don't actually use all of the vinaigrette but pour, mix and taste to my liking.)
Cook's Note: To toast the almonds, preheat the oven to 350 degrees F. Arrange the almonds in a single layer on a baking sheet. Bake for 8 to 10 minutes or until golden brown. Cool completely before using.
This recipe has become a household favorite and is always a hit at a party.  Please let me know if you like it as much as we do and feel free to share this newsletter with family and friends!
ENJOY…and don't forget to share this recipe with your friends!
Cheers!
Claire