As we move into February, many parents may be scrambling to find activities that keep their kids from bouncing off the walls. This is why I am sharing a fun day trip for those in the mid-atlantic.
Last July, our cousin asked that we save a date for her son's 3rd birthday in November. I heard that it was going to be at a waterpark so happily saved the date. Never having attended an indoor waterpark before, I was excited to try it out. It wasn't until we walked in that I realized why she made sure we saved the date well in advance…this place was awesome! North Jersey has a big "mega mall" called American Dream that houses an indoor water park, indoor theme park, indoor ski slope, skating rink, aquarium, mini golf…the list keeps going. The water park is called Dreamworks Water Park.
Being that our little cousin was a pandemic baby, his mom wanted to do a big event for his first ever birthday party. We had a large group and they gave us the best location in the water park, a platform that directly overlooked the whole park. Other parties were set back a bit and did not have the grand view we were fortunate enough to receive.
Here is the platform where the party was held: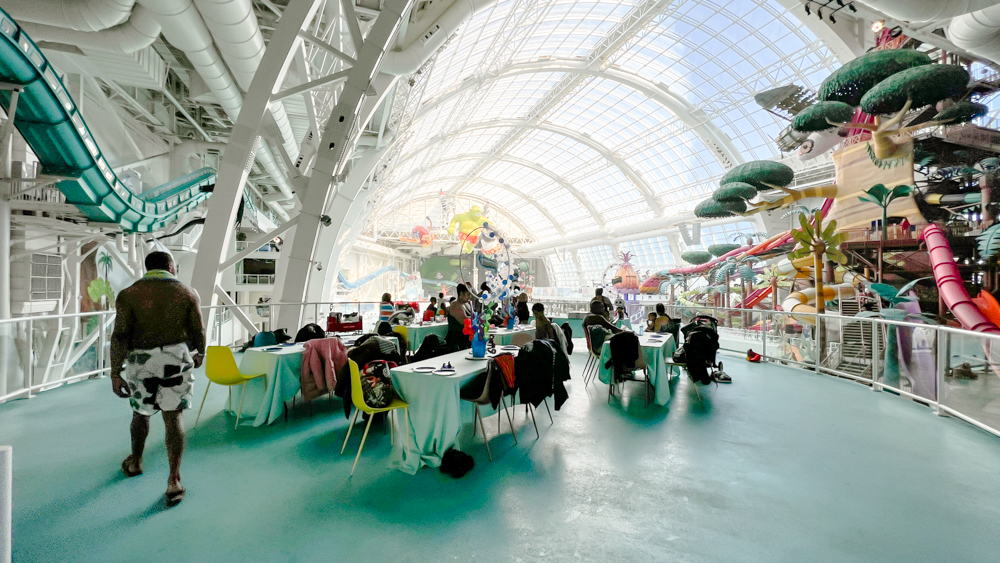 Here is the view FROM the platform: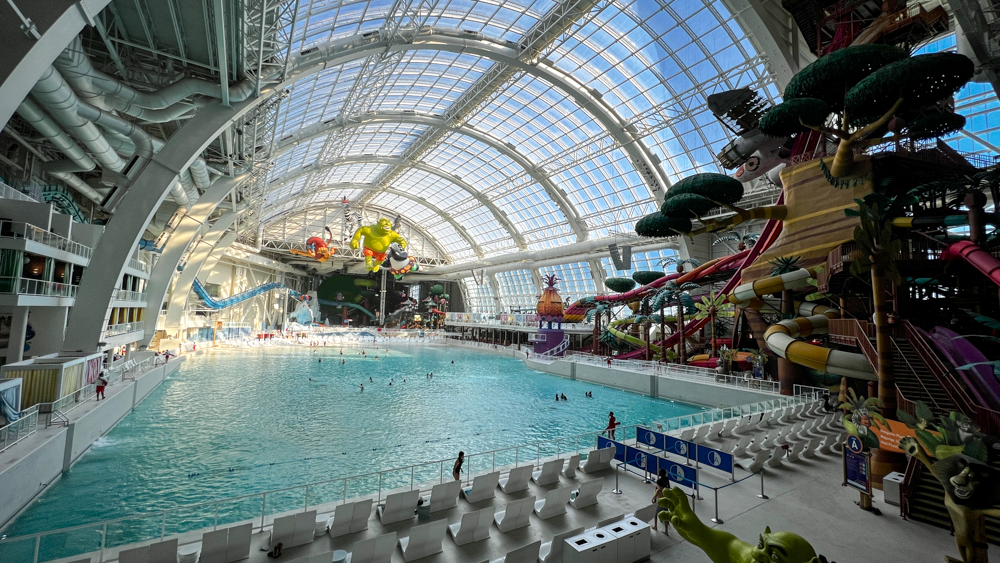 Since the water park is Dreamworks themed, you will see lots of characters from movies such as Shrek and Madagascar, which is fun.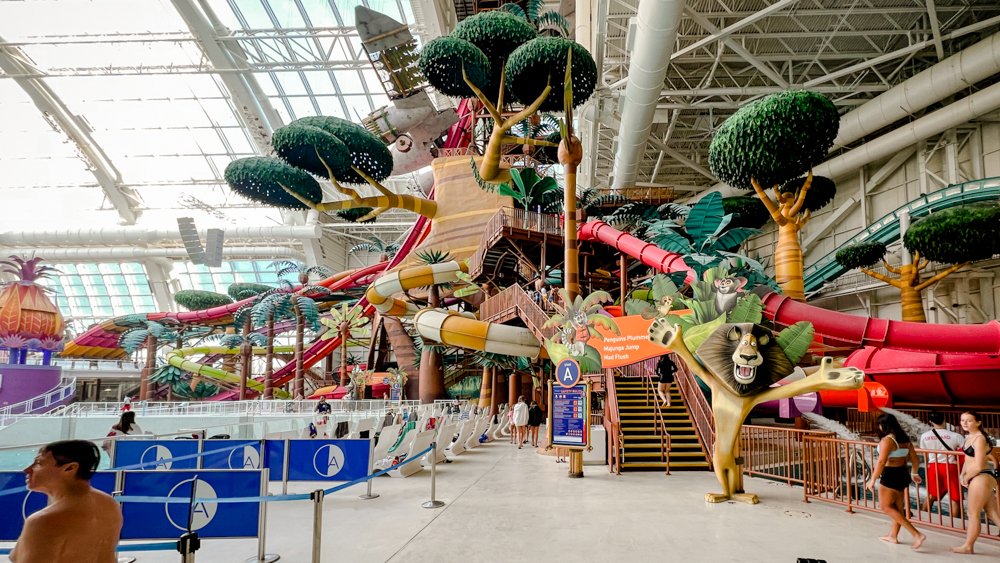 The biggest feature of the park is the indoor wave pool. It is quite large and is surrounded but these white lounge chairs so you can relax and watch the waves come in. There majority of the ceiling is all glass so it really makes you feel like you are almost outside when the sun shines in. If you look to the side of the wave pool, you can see cabanas and skyboxes for private rental.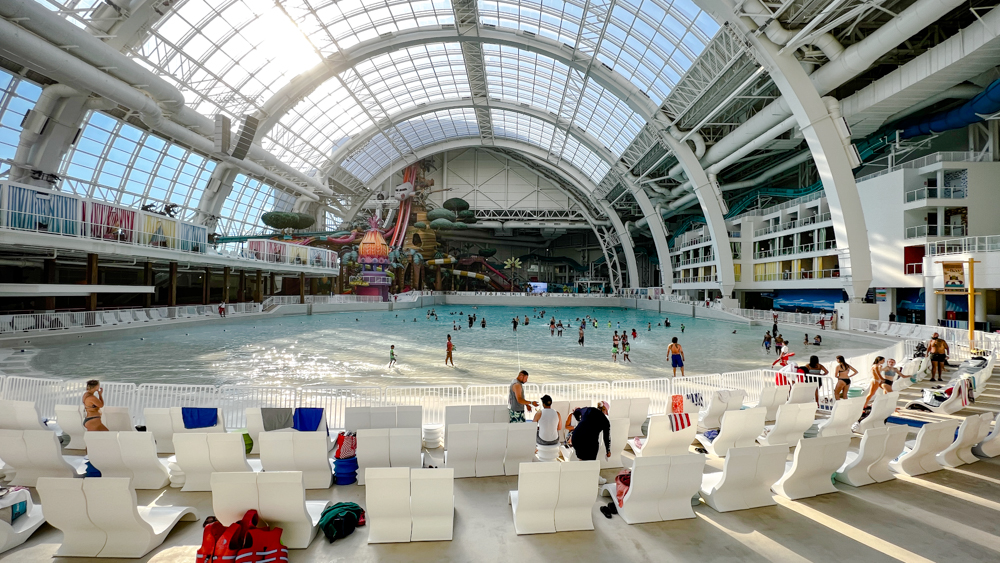 Right next to the wave pool is the kiddie area. Although I think this area was designed for the little ones, I saw kids of all ages enjoying it. Water pours down at a variety of points and the design is just plain fun.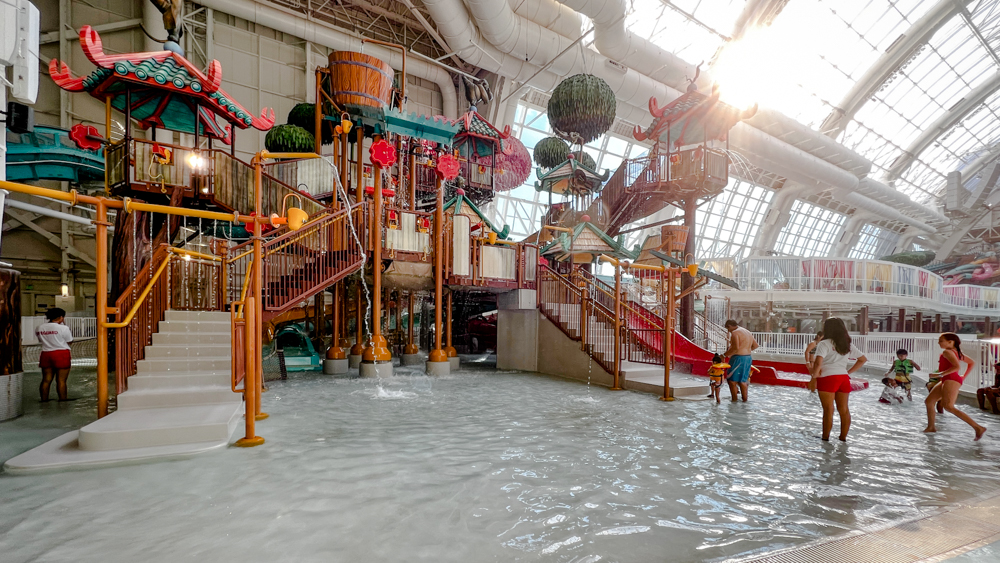 Right across the way are a small set of slides for the little ones, that are actually fun for the kid in all of us.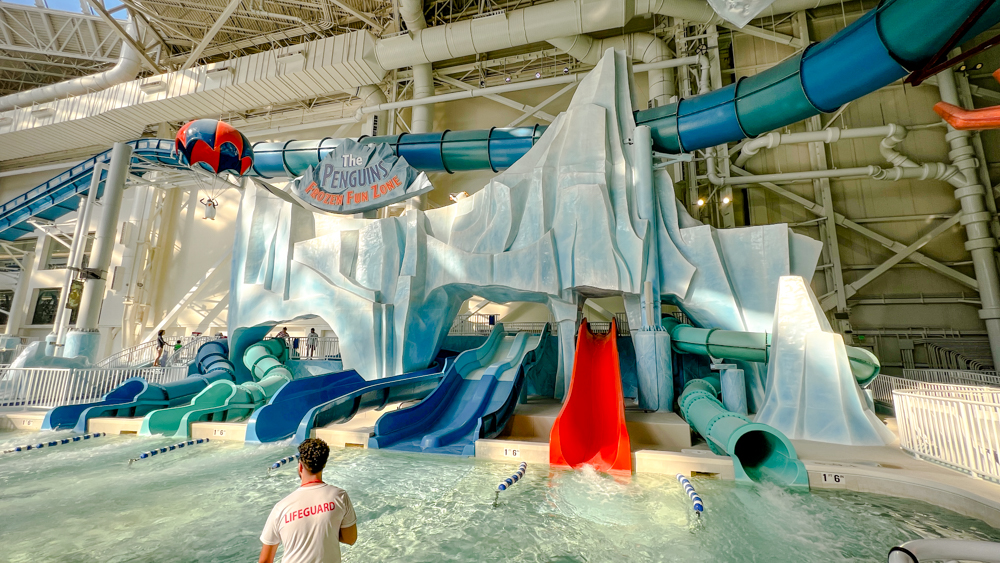 My husband and son are the thrill seekers in the family. They went on the "rollercoaster" that surrounded the park. You go up on a large, group raft and it pulls you around the perimeter in a tube. There is another thrill ride that spits you into a massive funnel. My son said he thought he was going to be launched out of the funnel as they swirled around. There is also an extremely high and steep water slide for those really looking to push the thrill level. My husband said you are up so high that you can look out the glass roof and see New York City. For this ride, you stand on a platform that releases and you drop down the tub. My husband said it was great but that sounds terrifying to me.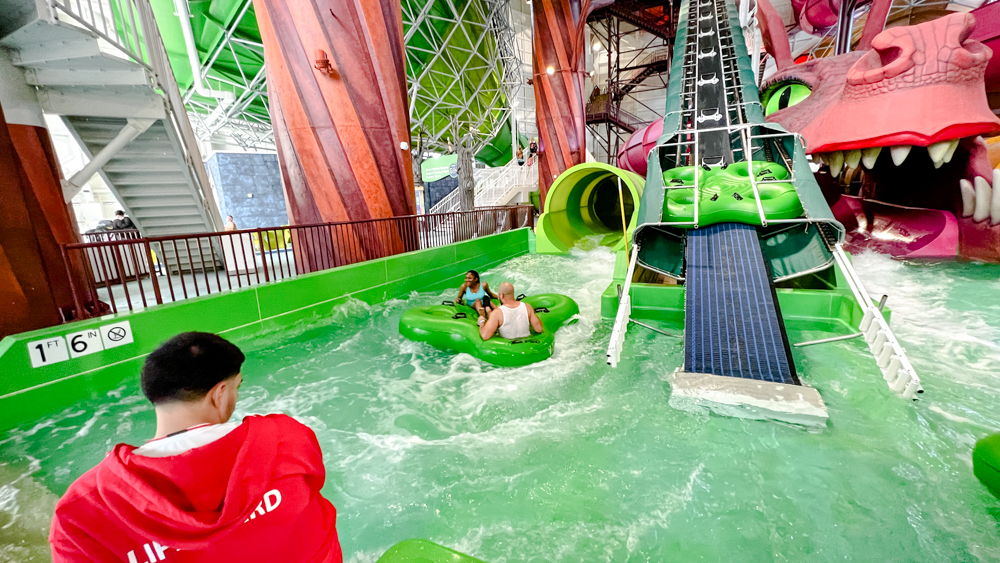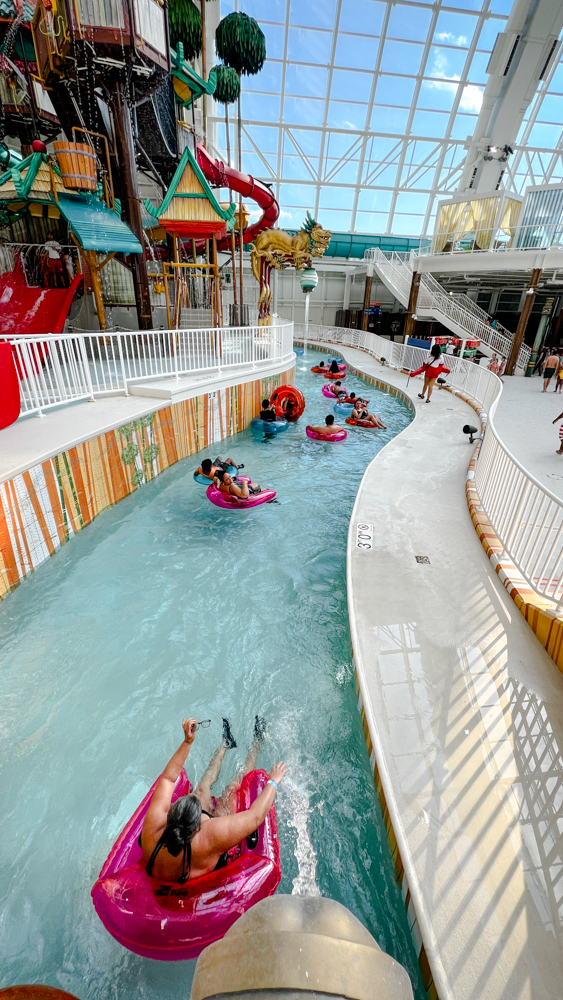 While my husband and son were on the thrill seeking rides, my daughter and I spent a large portion of time on the lazy river. It moves at a good clip but is still relaxing. There are areas you get sprayed with water as you go around. If the lazy river appeals to you, I highly recommend the horseshoe shaped raft (like the pink one at the bottom of the picture) instead of the typical donut shaped tubes. The horseshoe shaped rafts let you sit in the water and relax. As an adult, they are way easier to get on and off. The only problem is that the horseshoe shaped rafts are less readily available so you may need to wait to grab one.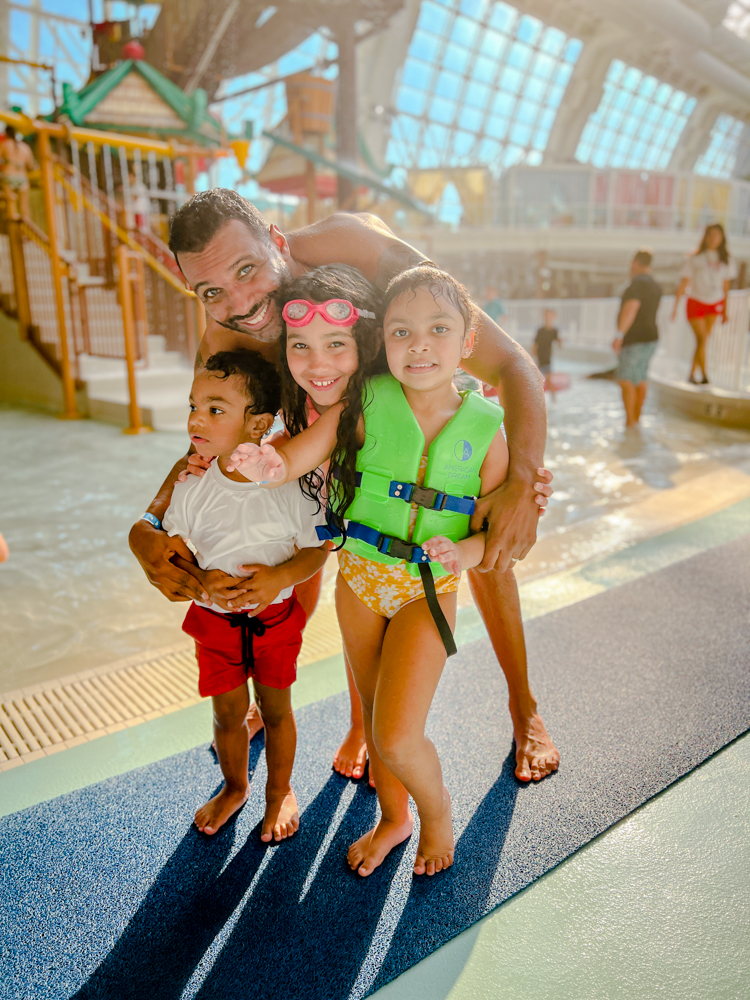 We spent a good amount of time in the water before having pizza and cake.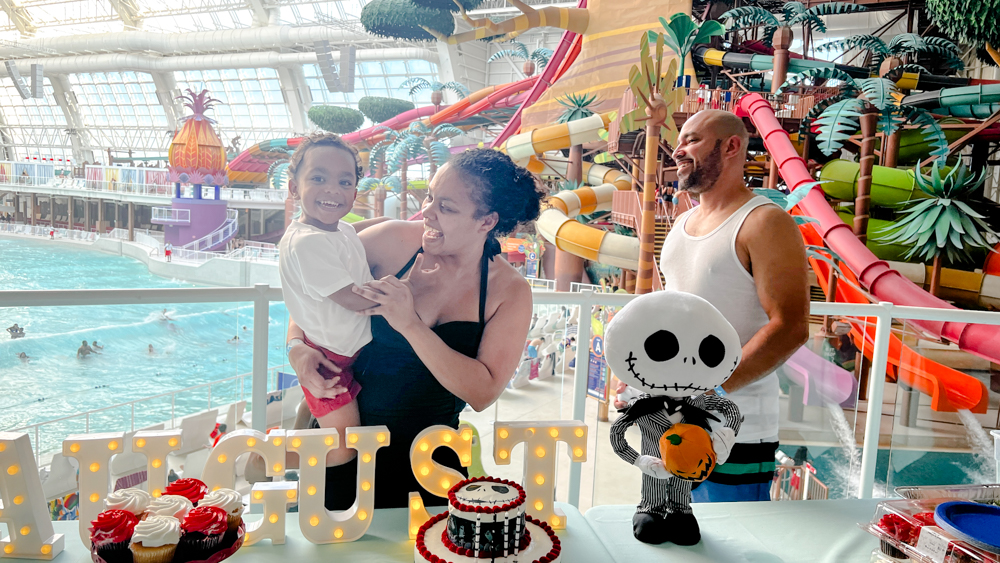 After pizza and cake, they bring the kids next door to It'Sugar, a big candy store. They give the kids little containers so they can run in for a set amount of time and fill their containers with whatever candies they want. I mean, "little me" was super excited about this added bonus. My sweet tooth daughter was very over the moon about this activity.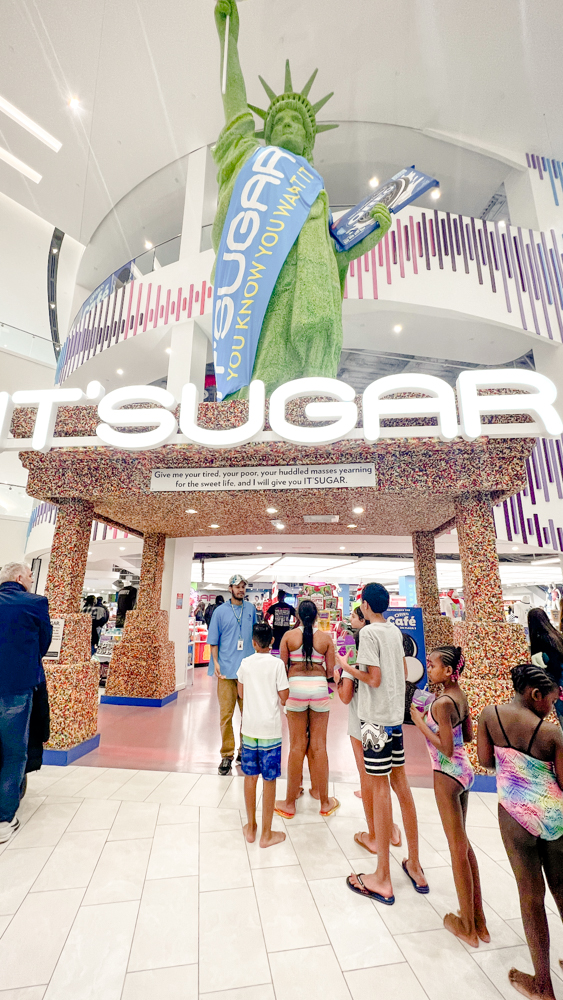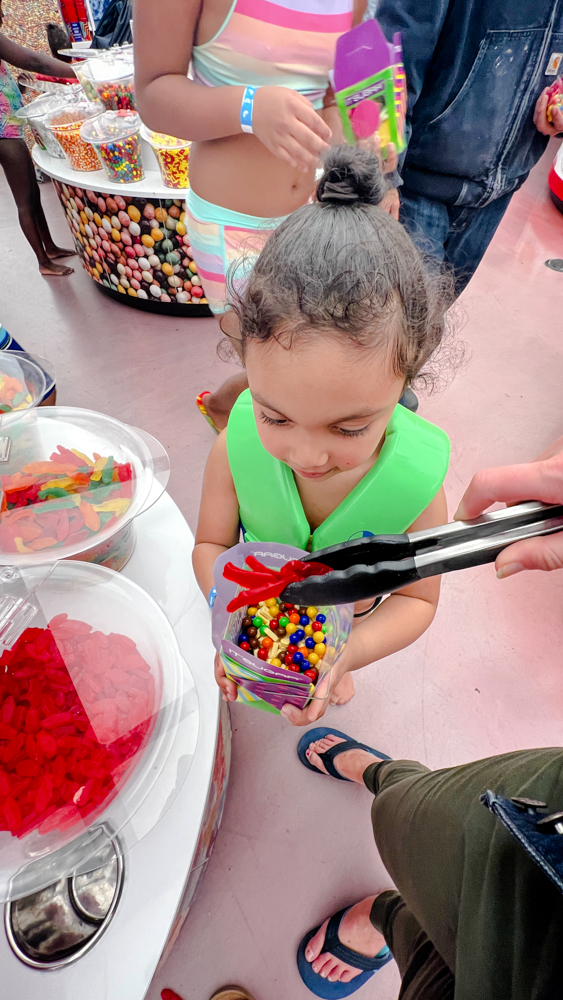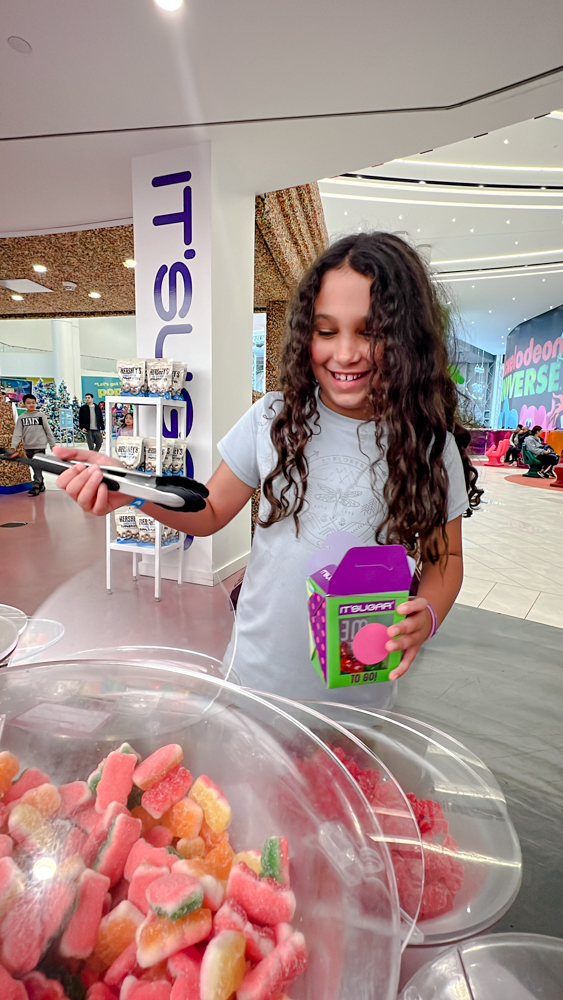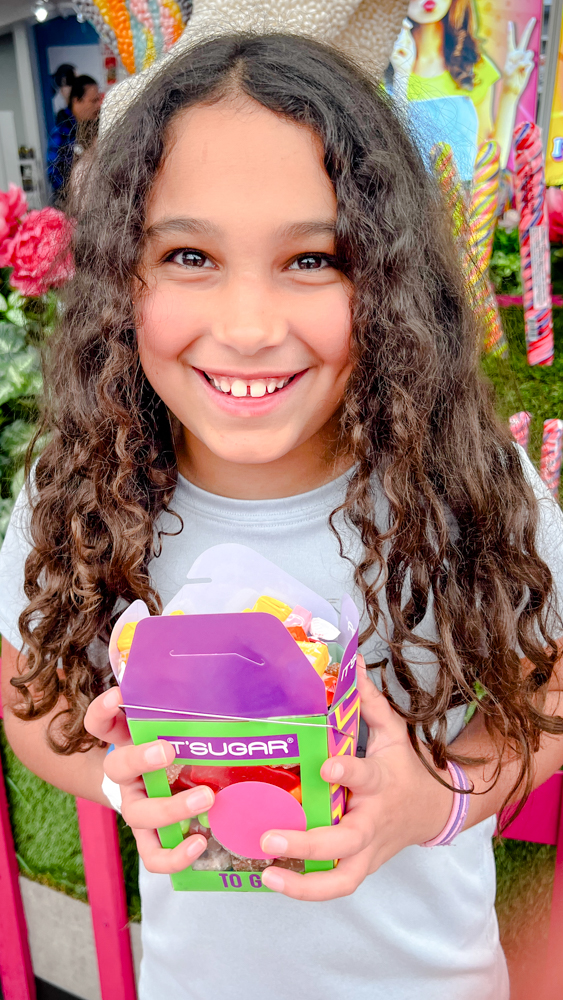 If you are looking for a fun day trip with the family, I highly recommend Dreamworks Water Park. There are lifeguards positioned everywhere throughout the park and all were very attentive. They do a great job of cleaning the facility all day while the public is using it. (That was a big concern for me before going to the park.) It is well designed and fun can be had for hours. We stayed from 11:00 am to 5:00 pm and my kids were still having fun. We would've stayed longer if we didn't have a 2 hour drive home.