In honor of Black History Month, I wanted to highlight a "local" black icon. About 2 hours from the Delaware Valley is a great little town called, Cambridge, Maryland (Dorchester County). As an outdoorsman, my husband started going to Dorchester County's Blackwater Wildlife Refuge for his outdoor activities. It wasn't long until we started taking day trips as a family. The topography is primarily flat and is highly used by bicyclists. Many go to Cambridge in the Fall to participate in the Ironman competition. It is also the childhood home of the Great Harriet Tubman. In this post, I'll highlight where you can learn more about Harriet Tubman as well as a little bit about this section of Maryland's Chesapeake.
Entering Cambridge from the North, you will see the Dorchester Visitor Center as you drive over the Malkus Bridge. It is lovely build with a sail like shade. Next to it is a great playground if you have kids with you.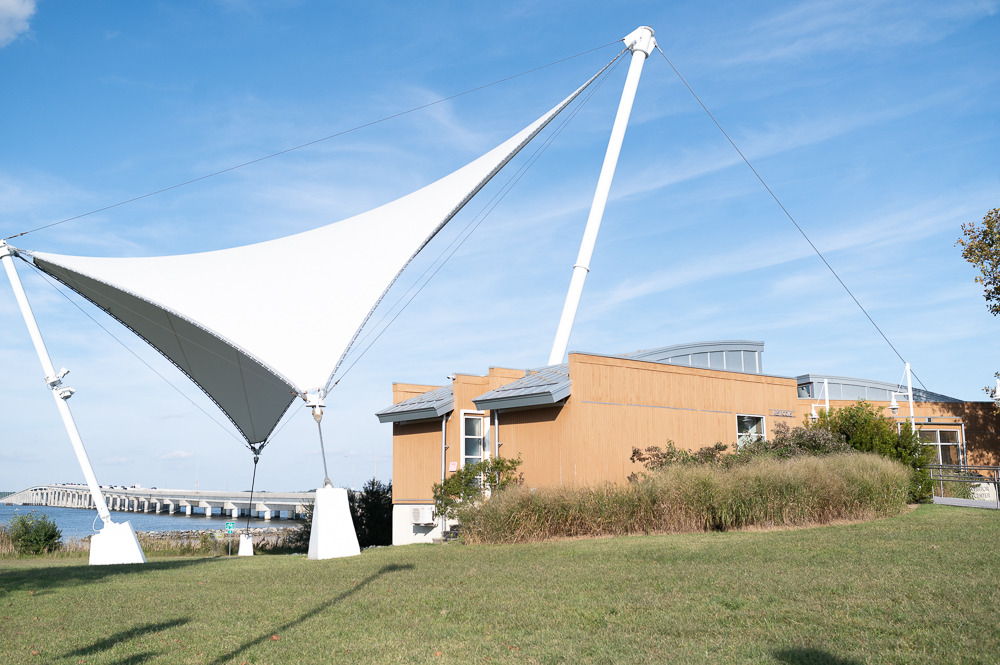 View of the Dorchester County Visitor Center and Choptank River Bridge.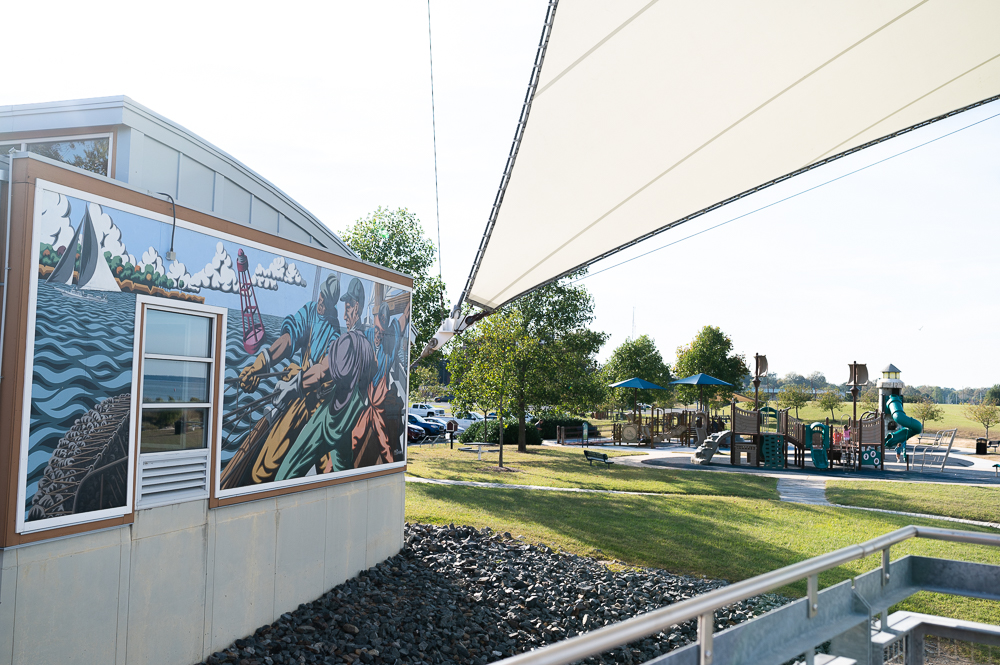 'Ode to Watermen' Mural
"This mural honoring local watermen graces the outside of the Dorchester County Visitor Center facing the Choptank River. The 33-foot by 11-foot mural, which shows three watermen harvesting oysters, is visible from the Malkus Bridge for people driving into Cambridge." ~visitdorchester.org
LOCATION: Dorchester County Visitor Center, 2 Rose Hill Place, Cambridge, MD 21613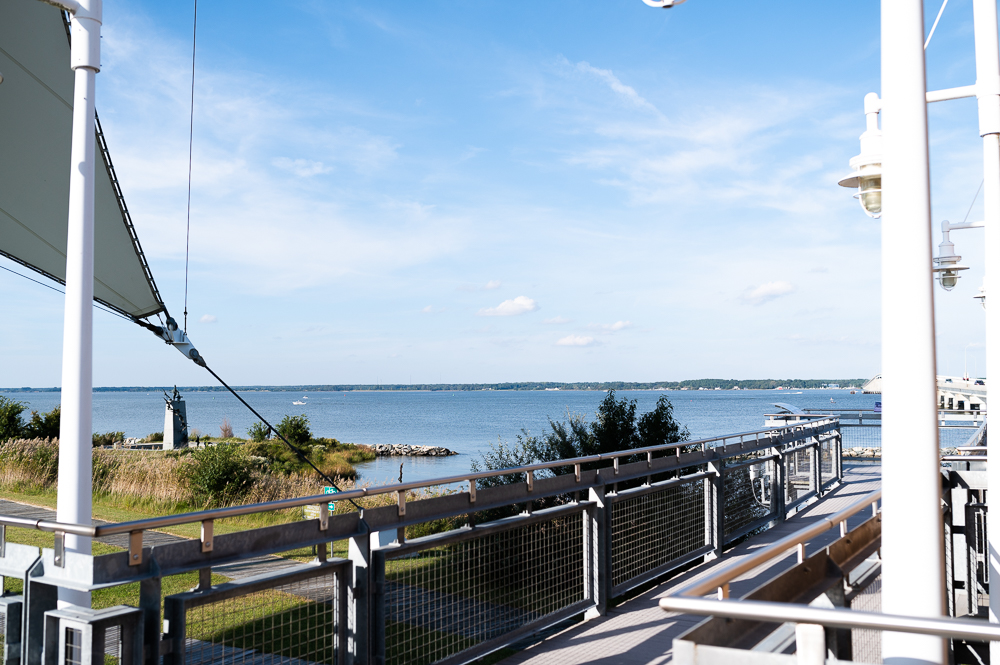 View of the Choptank River from the visitor center.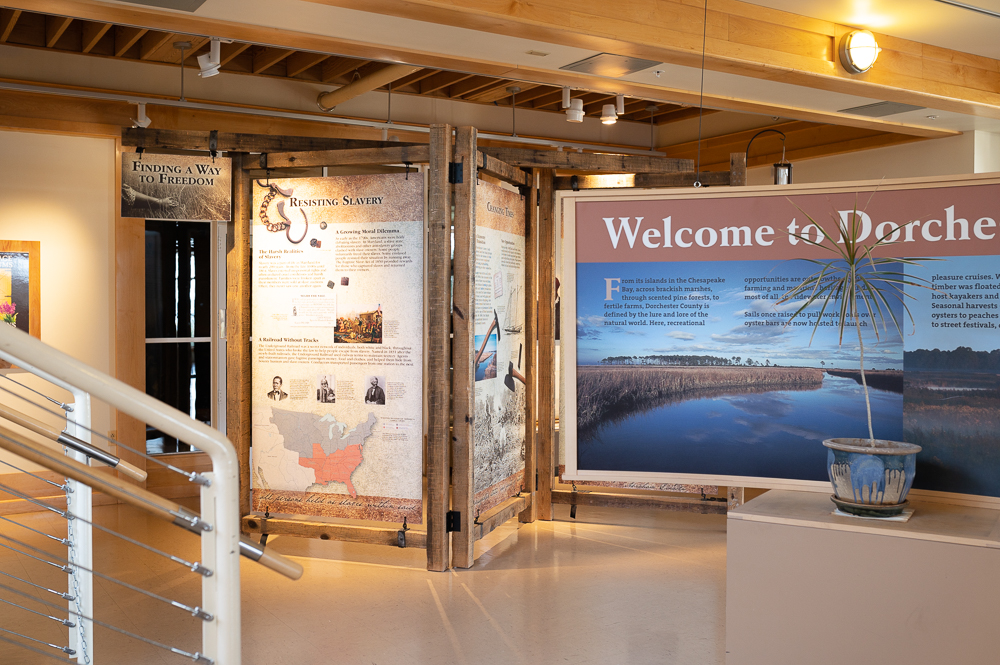 Interior picture of Dorchester County Visitor Center.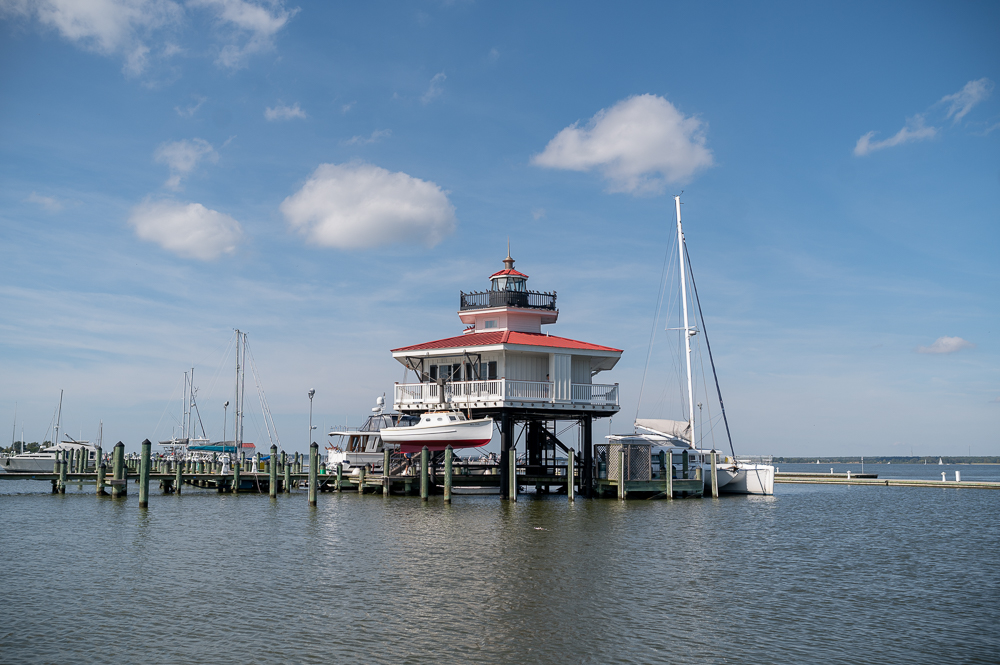 Choptank River Lighthouse (exterior picture above, interior picture below)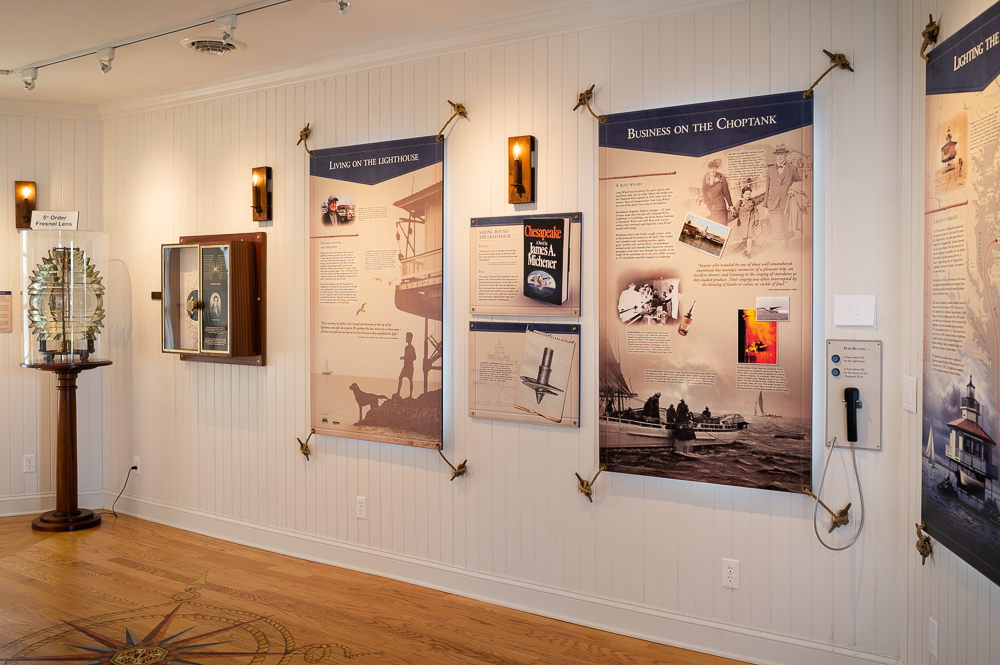 As you drive further down into Cambridge via the main thoroughfare, route 50, you will quickly see a huge mural dedicated to not only Harriet Tubman but also other notable black people (such as Gloria Richardson Dandridge, who was a civil rights leader in the 1960s, plus Ella Fitzgerald, who performed in Cambridge) as well as representation of the black community members in general. In fact, there are lots of great murals in the area. Click here for the county's website page about the murals.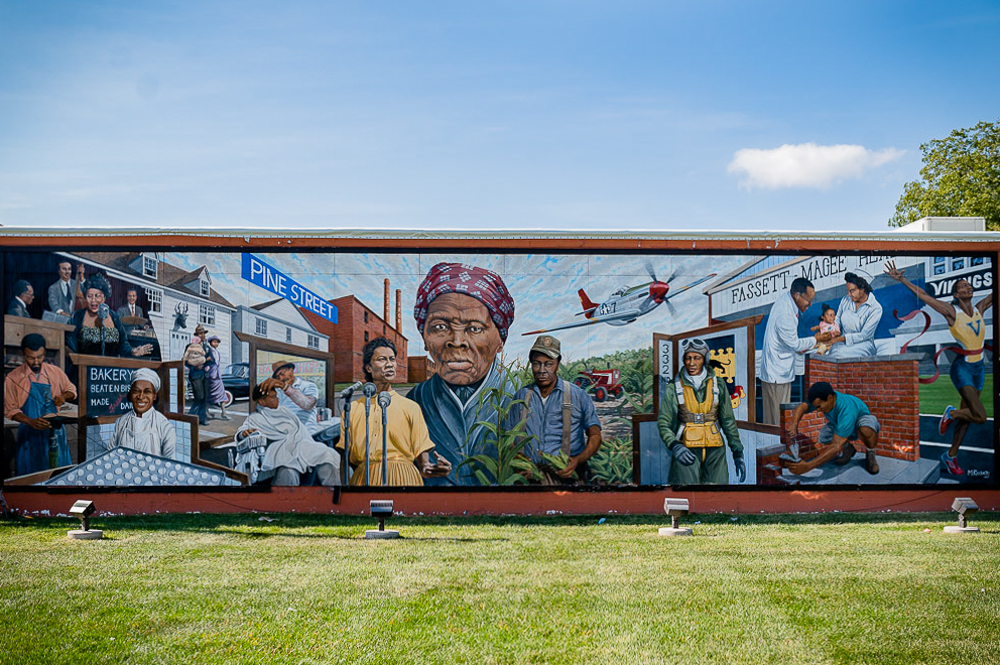 Local African-American Heritage Mural
"The mural highlights Cambridge's rich African-American history, culture and heritage, particularly in the community around Pine Street, which is one of the oldest African-American communities in the country that dates back to the mid-1800s. The 11-foot-by-48-foot mural was created by artist Michael Rosato."
~ visitdorchester.org
LOCATION: Near the corner of Maryland Avenue and Route 50 in Cambridge, MD 21613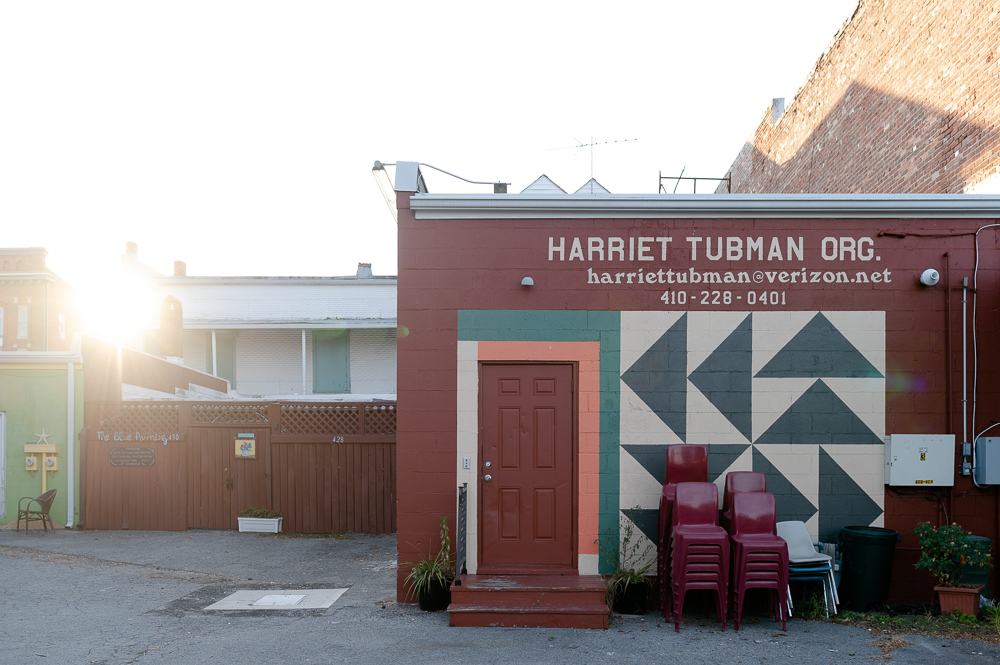 Harriet Tubman Mural
""Take My Hand" is a powerful image of Harriet Tubman inviting the viewer to join her on her journey to freedom. The mural is on the outside of the Harriet Tubman Museum & Educational Center in downtown Cambridge, Maryland. Tubman was born into slavery just a few miles from the mural, went on to escape in 1849, and then returned more than a dozen times over the following decade, risking her life again and again to lead others to freedom. Mural created by Michael Rosato." ~https://visitdorchester.org/chesapeake-country-mural-trail/
LOCATION: Exterior of Harriet Tubman Museum & Educational Center, 424 Race St, Cambridge, MD 21613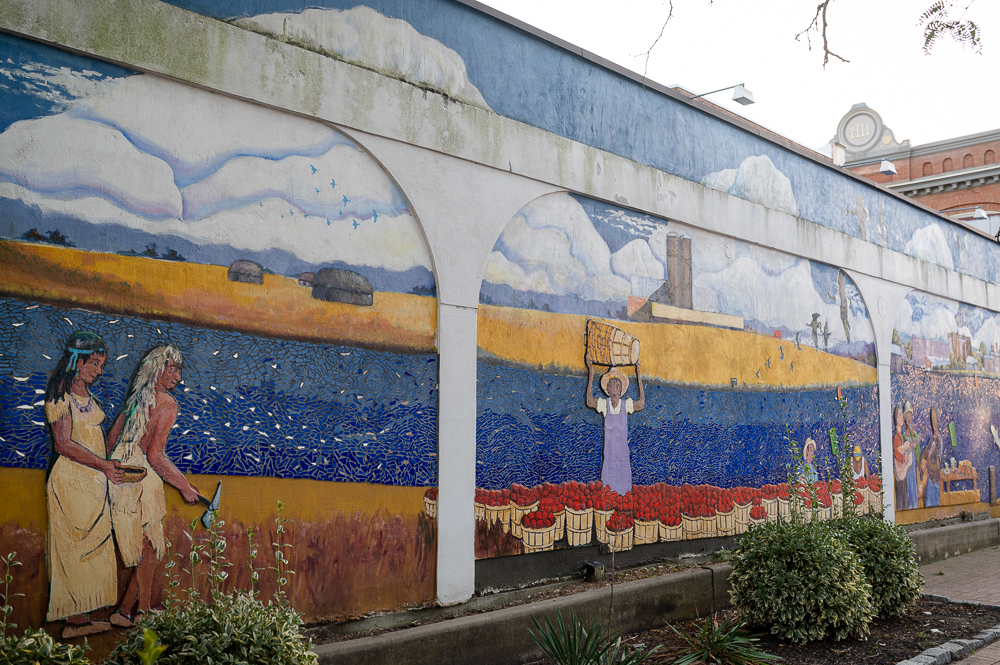 Mosaic Mural
"Located on the side of a downtown Cambridge building by Cannery Way, a brick courtyard where events are occasionally held, this exterior mural was created by local artists Willy Schlossbach and Jen Wagner. A combination of mosaic and paint, the mural traces Cambridge's history from Native American times to more recent times."
LOCATION: Near 432 Race Street, Cambridge, MD 21613
The downtown area is small but adorable. For such a small area, the available stores there are adorable and well done. As you can see in the picture below, renovation and revitalization is continuing.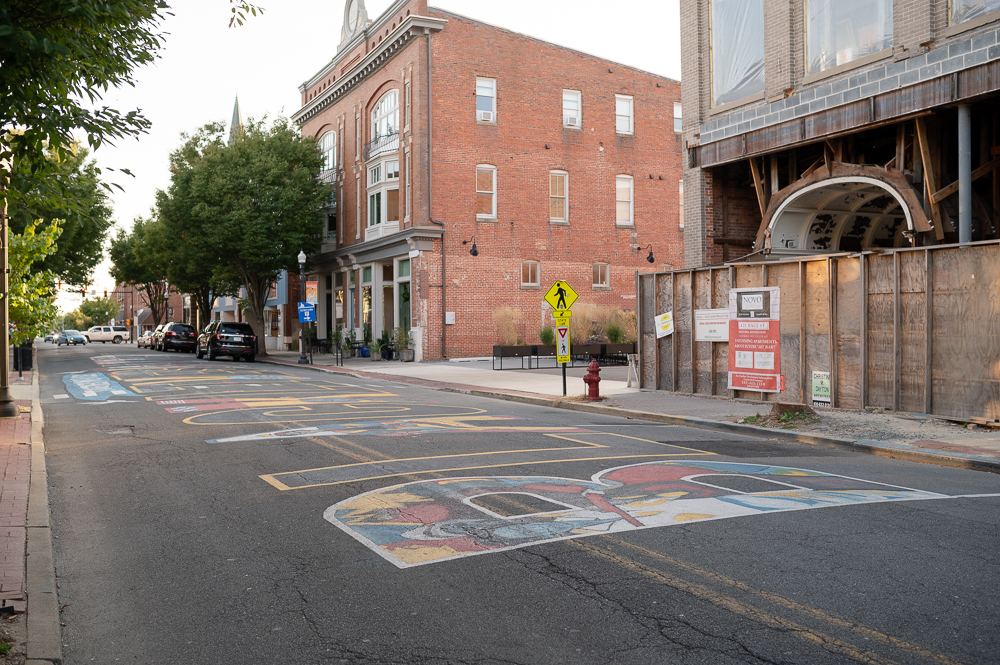 Here are a few of our favorite stores and restaurants.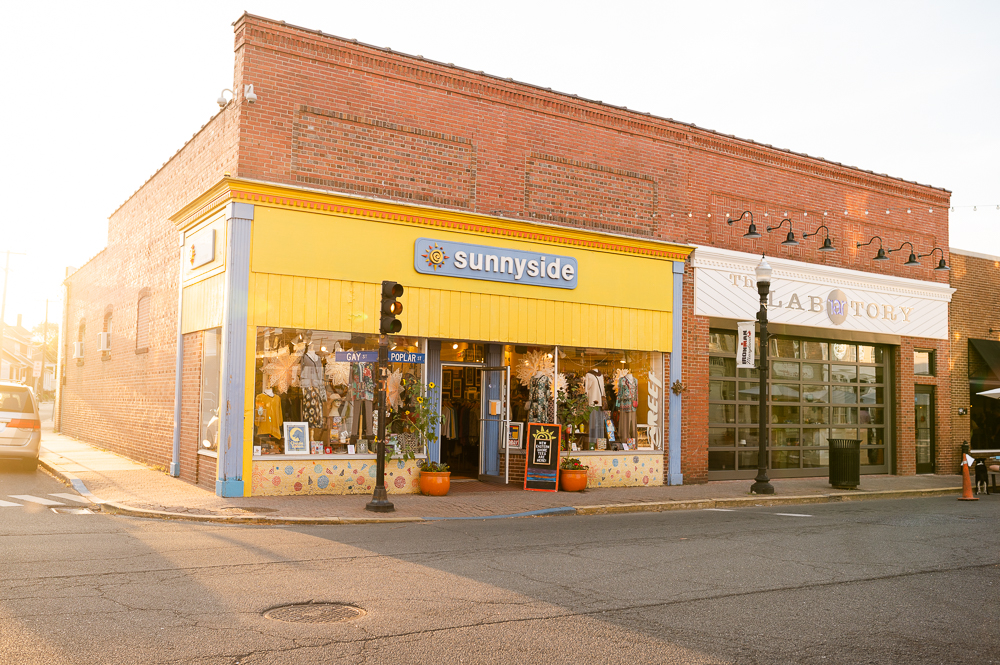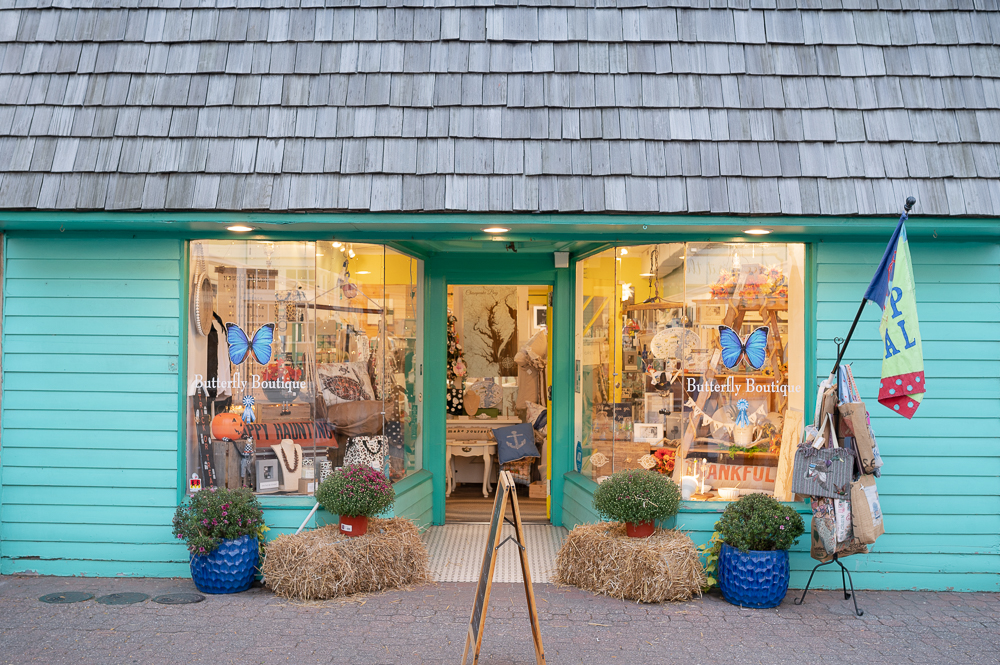 If you are a craft beer guy, like my husband, you won't want to miss RAR Brewery. They have inside and outside seating available. The outside seating is great on a nice day…and allows you to include your pup.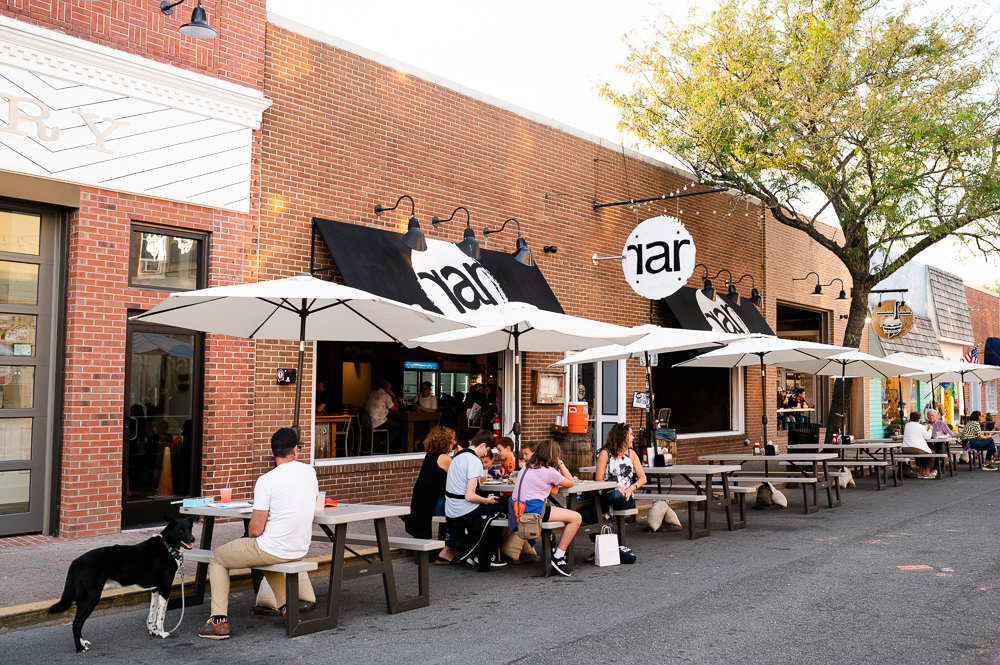 The food and beer are delicious!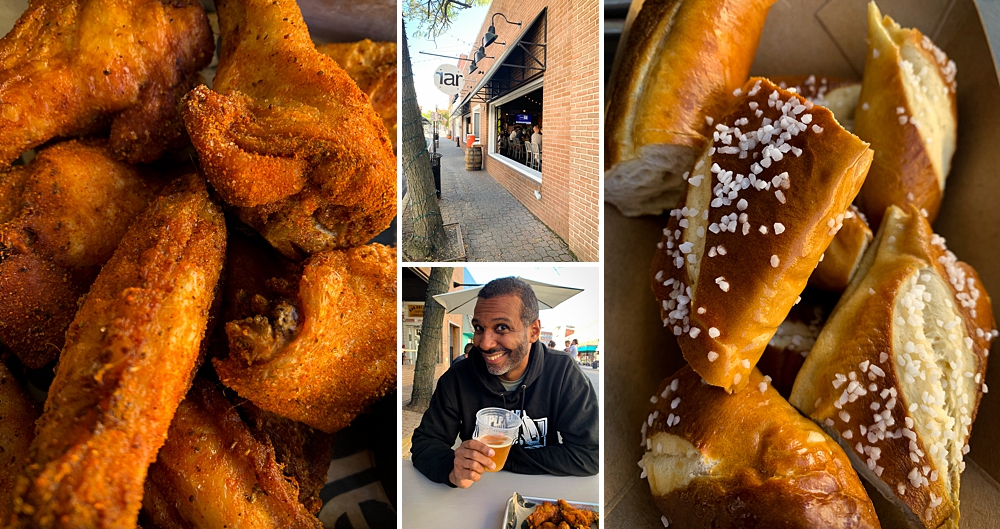 The interiors are geared right towards my Generation X childhood memories.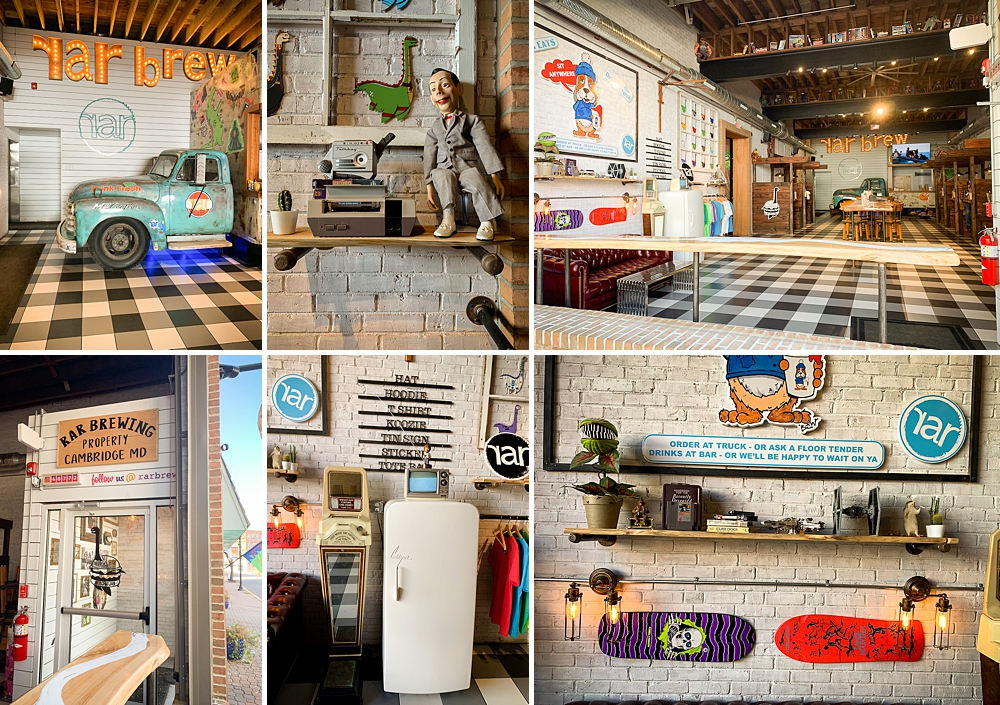 Another favorite, that is off the main strip, is a Mexican restaurant called: Don Chuy.
The beers and margaritas are huge plus the food is always fresh and tasty.
When you leave downtown Cambridge and make your way south towards , you will find more treasure troves.
There is a great spot called: Emily's Produce.
In the nice weather you will find it hoping with people getting produce, ice cream, petting farm animals, or on the little playground, etc.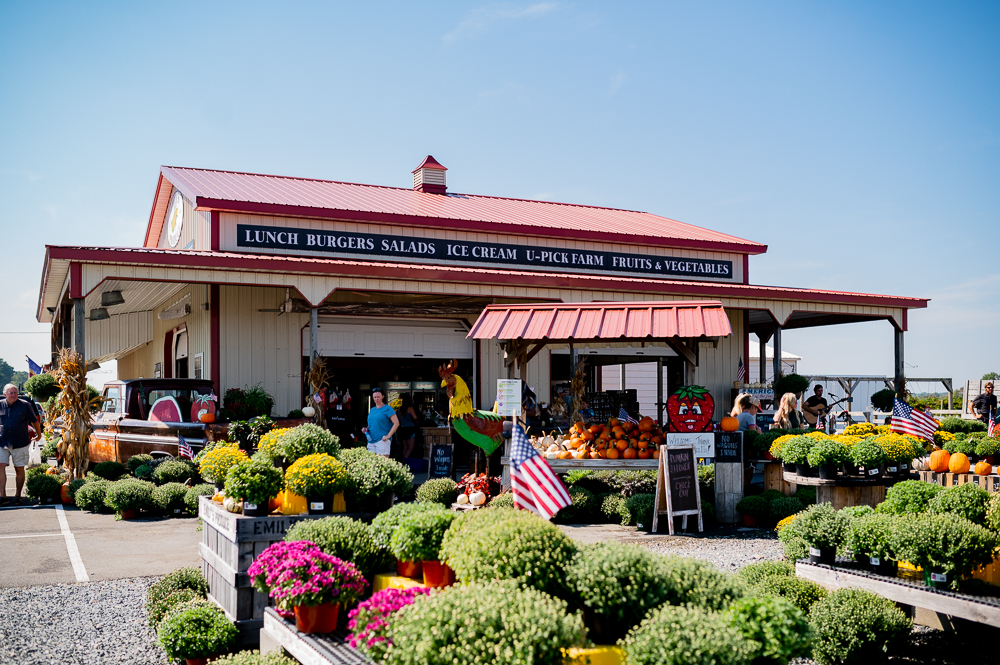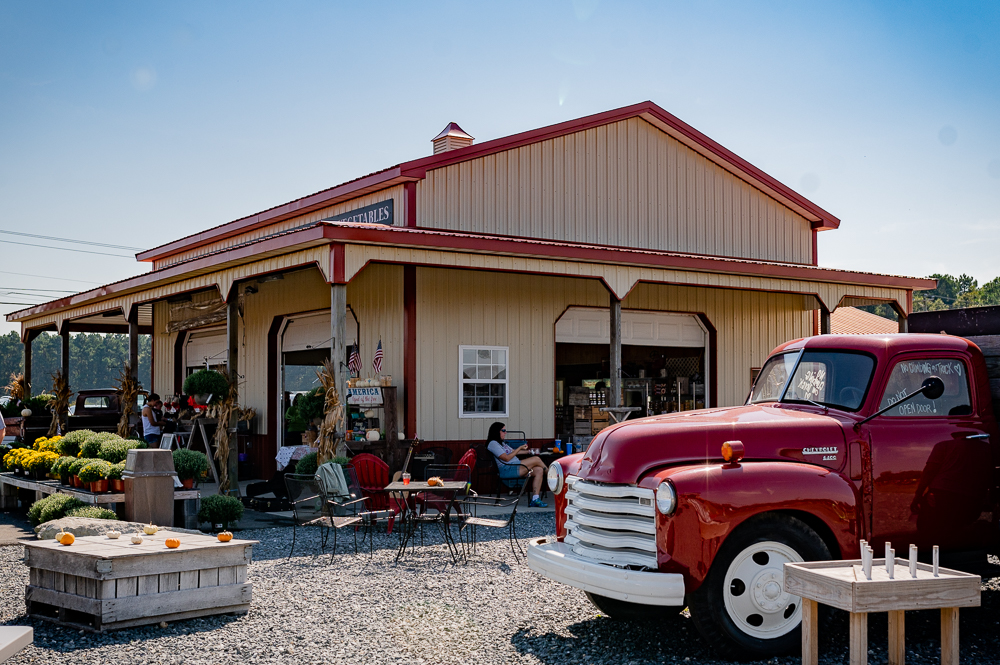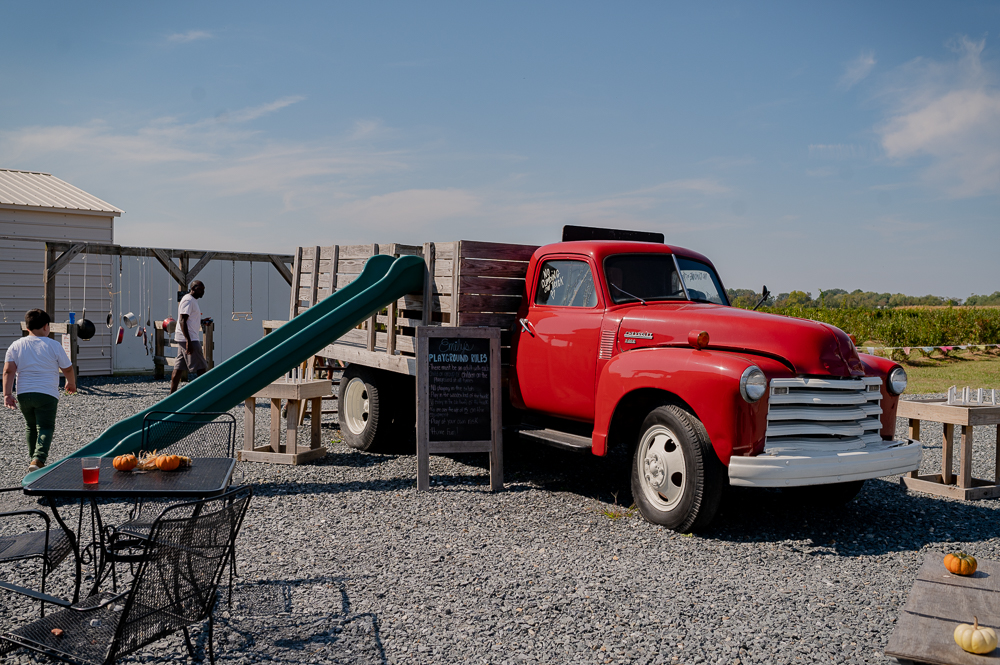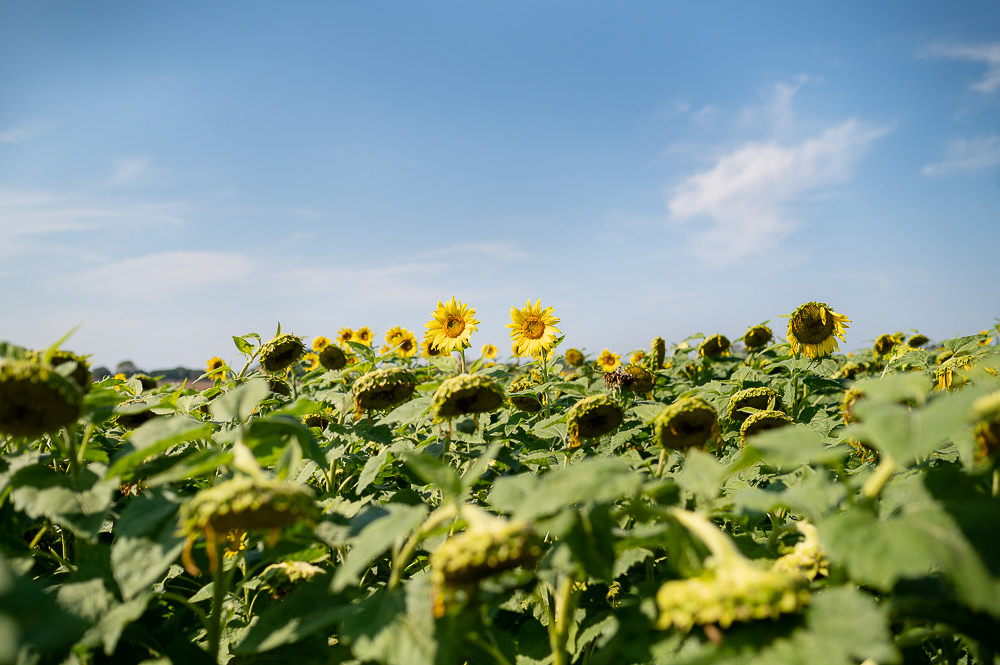 Keep going and you will find the Harriet Tubman Underground Railroad Visitor Center.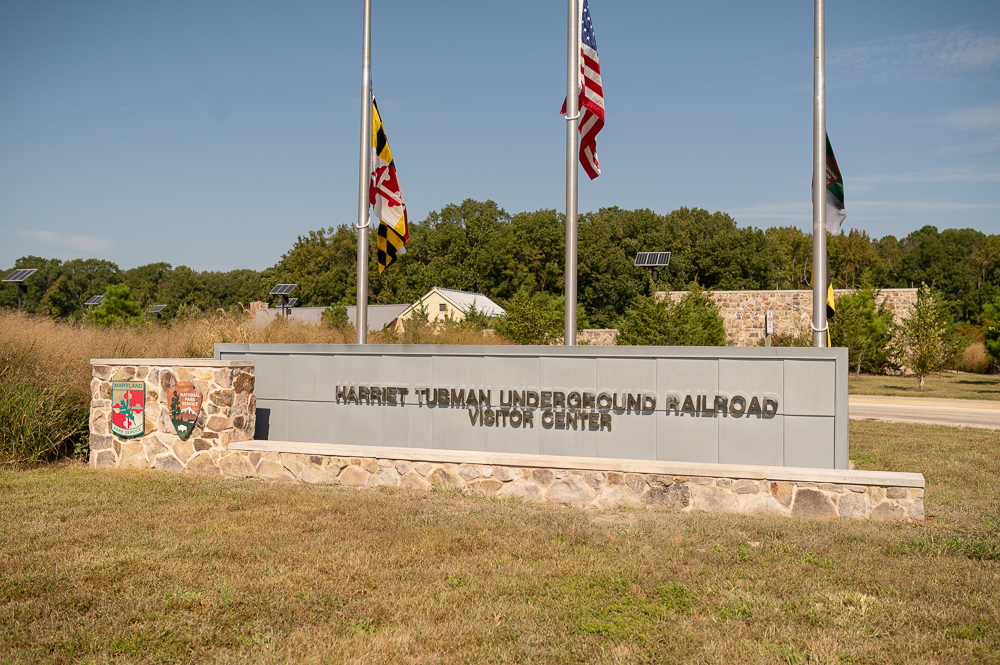 Harriet Tubman Underground Railroad Visitor Center
Dorchester County – 4068 Golden Hill Road – Church Creek, MD 21622​
Hours: The Harriet Tubman Underground Railroad Visitor Center is now open to the public from 10am – 4pm Tuesday through Sunday.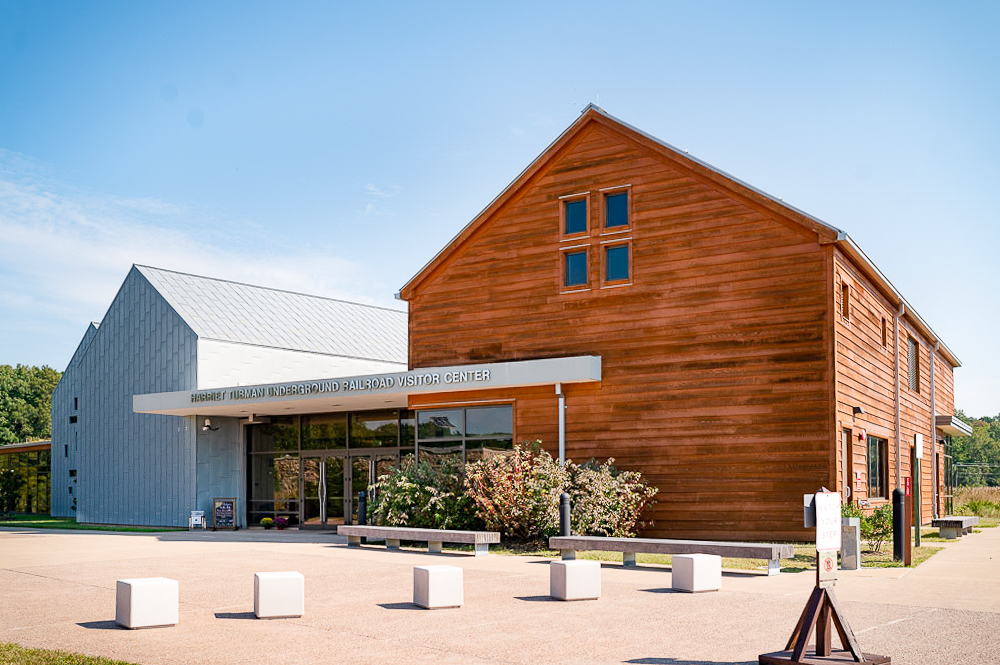 "The 17-acre Harriet Tubman Underground Railroad State Park and Visitor Center invites visitors to experience Tubman's world through exhibits that are informative and emotive, providing an in depth understanding of Tubman's early years spent in Maryland's Choptank River region and her legacy as a leader, liberator and humanitarian in the resistance movement of the Underground Railroad. The park, which sits on the trailhead for the 125‐mile Harriet Tubman Underground Railroad Byway (an All American Road) also provides an orientation to Tubman and Underground Railroad heritage sites and programs within the county and region. The visitor center features a museum store, information desk, research library and an exhibit space. The park and the adjacent Blackwater National Wildlife Refuge visitor centers are physically and intellectually linked to one another through programming, multi-use trails and roads.​"
~ above information taken from the Maryland.gov
website linked here.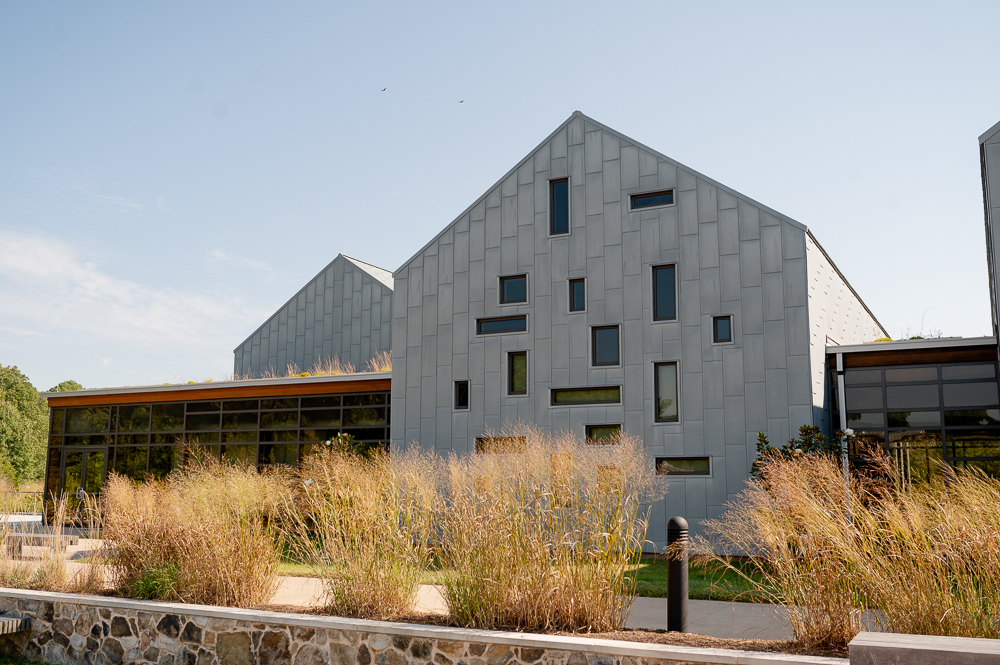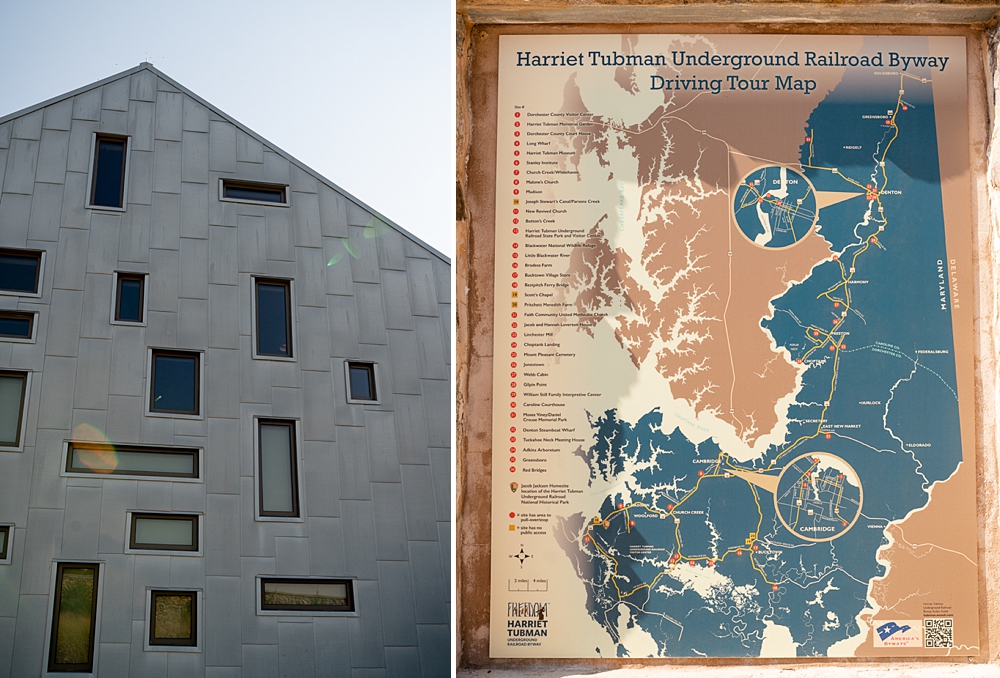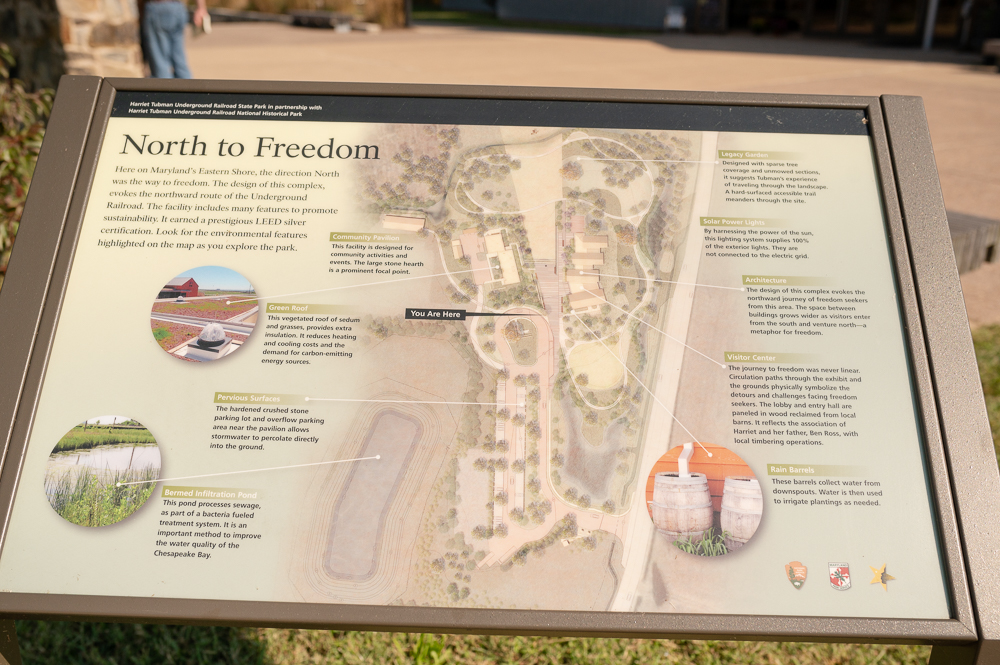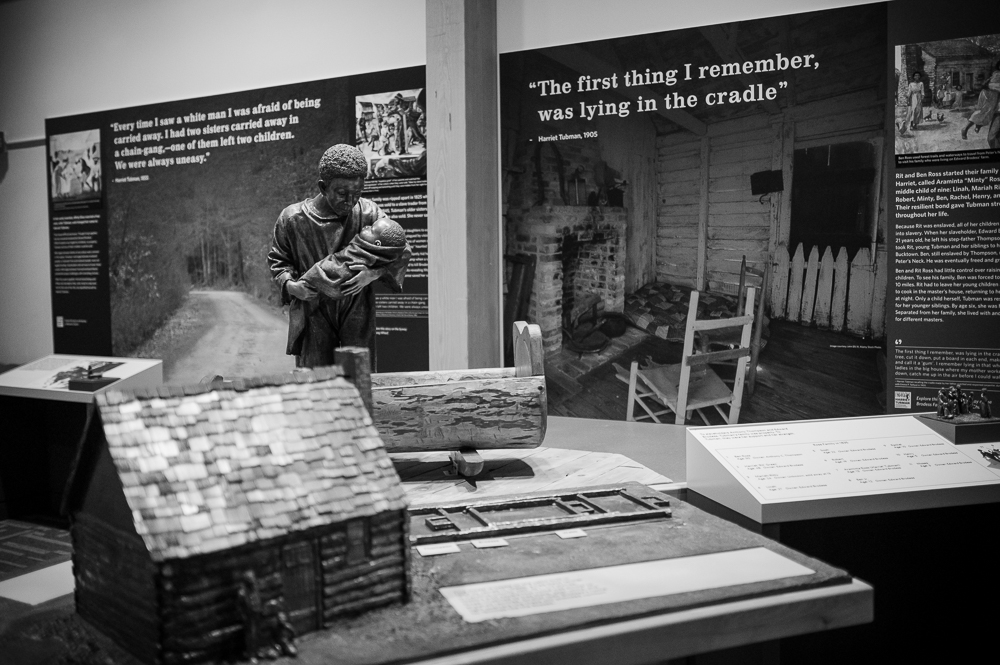 A short drive from the museum is the site of Harriet Tubman's childhood home. It is currently an open field but there are signs with additional info.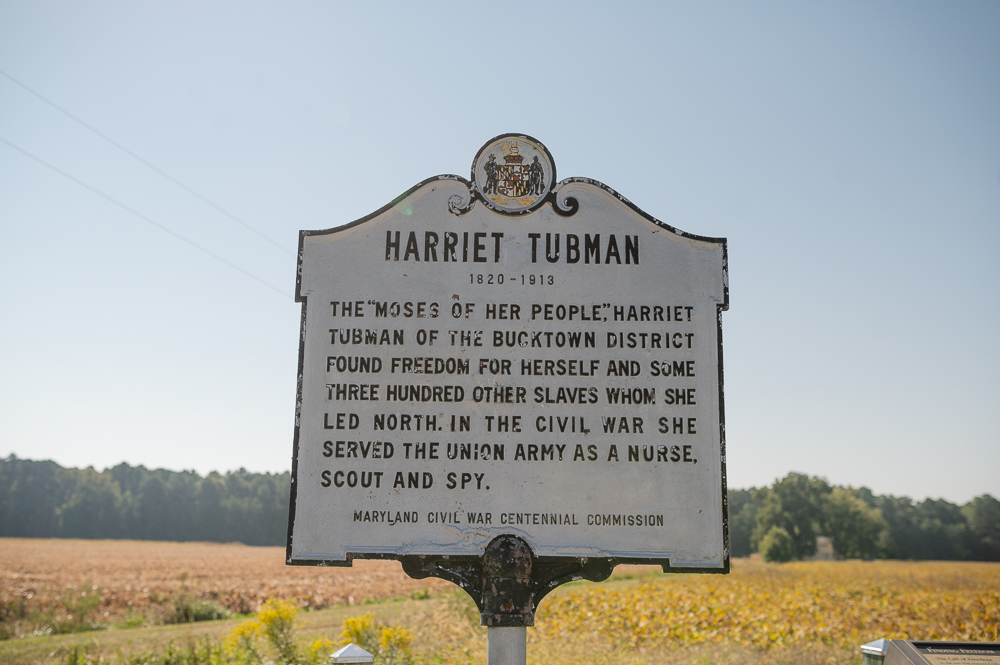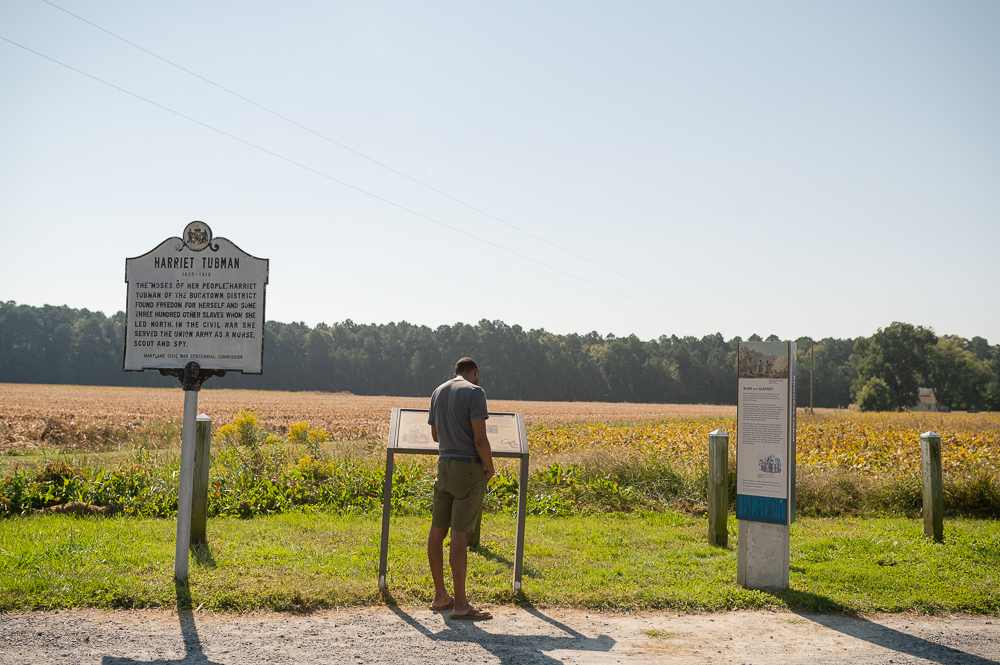 Blackwater Wildlife Refuge is not too far from Emily's Produce and the Harriet Tubman Museum. I don't have photos of the Wildlife Refuge that I took myself but here are a few my husband took. There are lots of Bald Eagles in this area and is best to see in person. They have a lovely visitor center and a road that takes you around a section of the refuge. (I will update after my next visit.)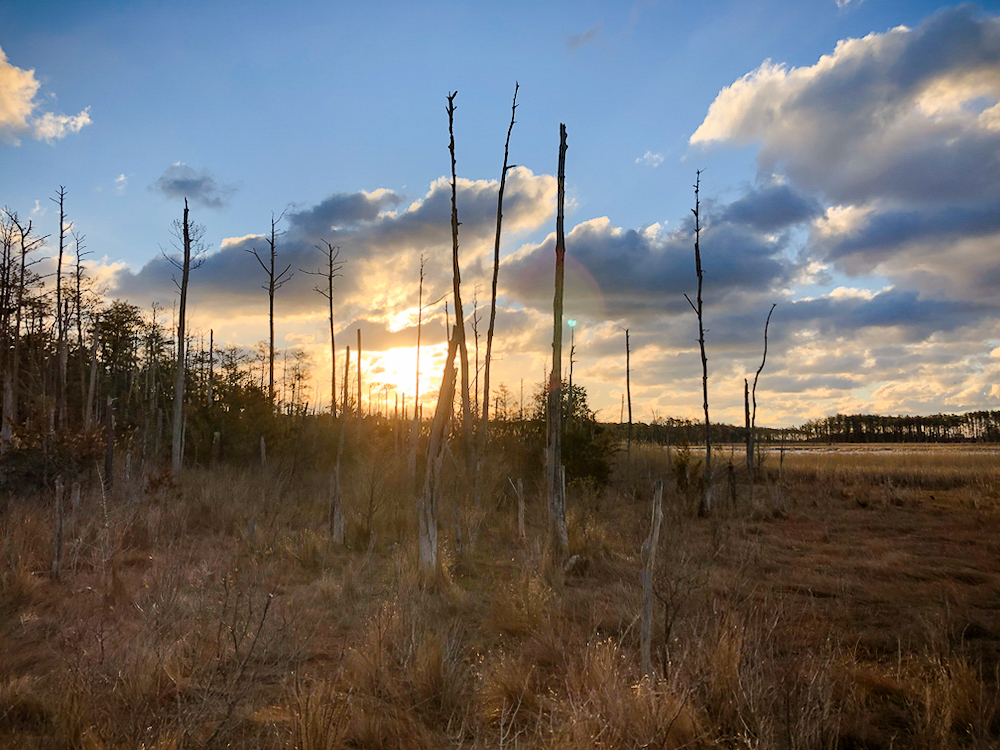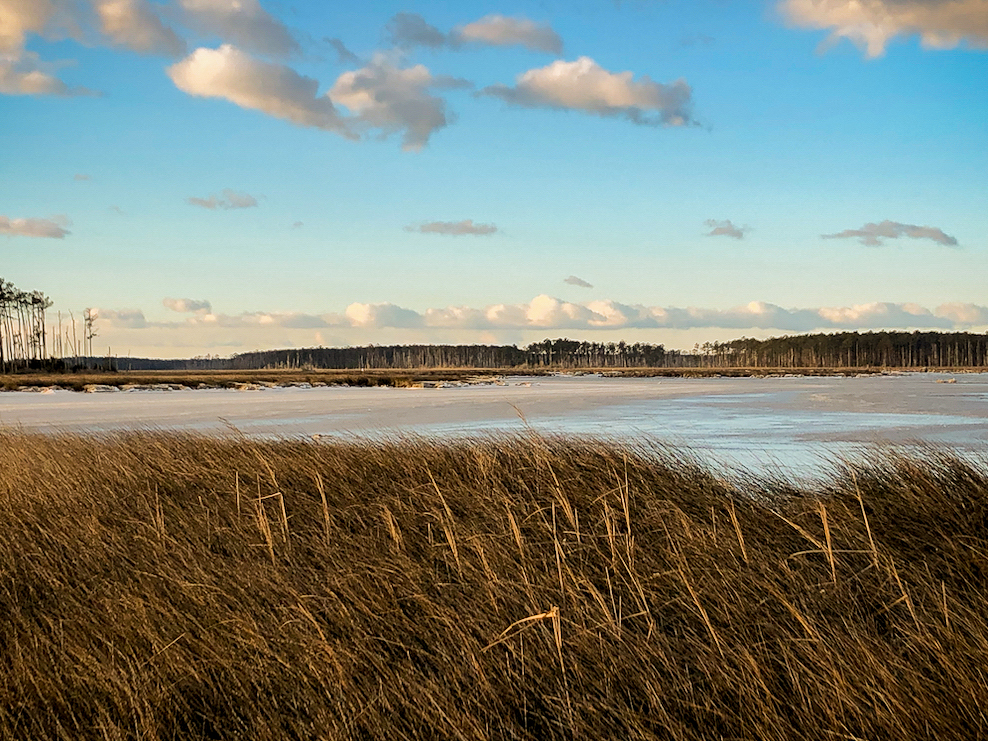 If you continue to explore, these are what a lot of the roads and waterways will look like as you drive. It is amazing that Harriet Tubman navigated this area in harsh conditions and in the dark to save so many people. There is a group of people that do Ms. Tubman's walk from Cambridge, Maryland to Kennett Square, PA, which was a crucial stop in the Underground Railroad. Kennett Square had a number of freed Black people, who were also home owners and small business owners.
Here is their Facebook page if you want to see their journey, it is called: We Walk With Harriet.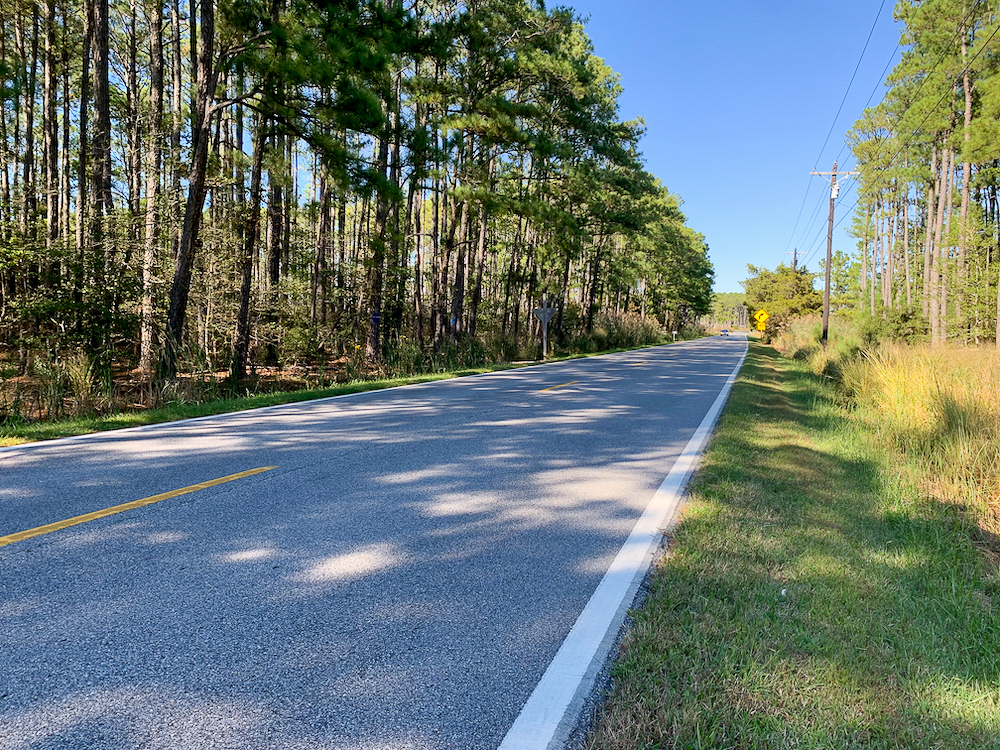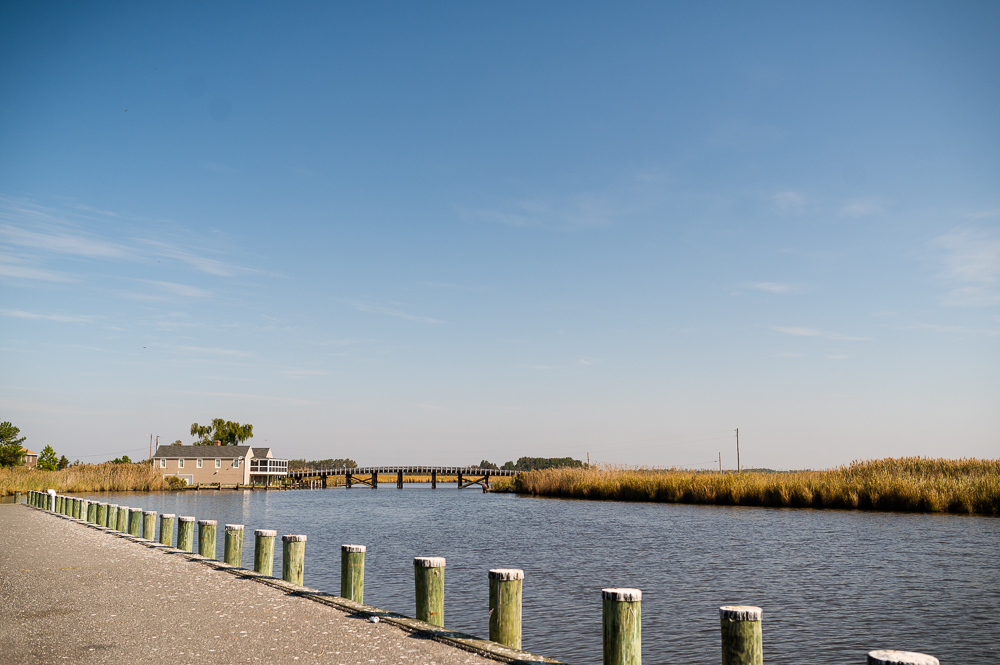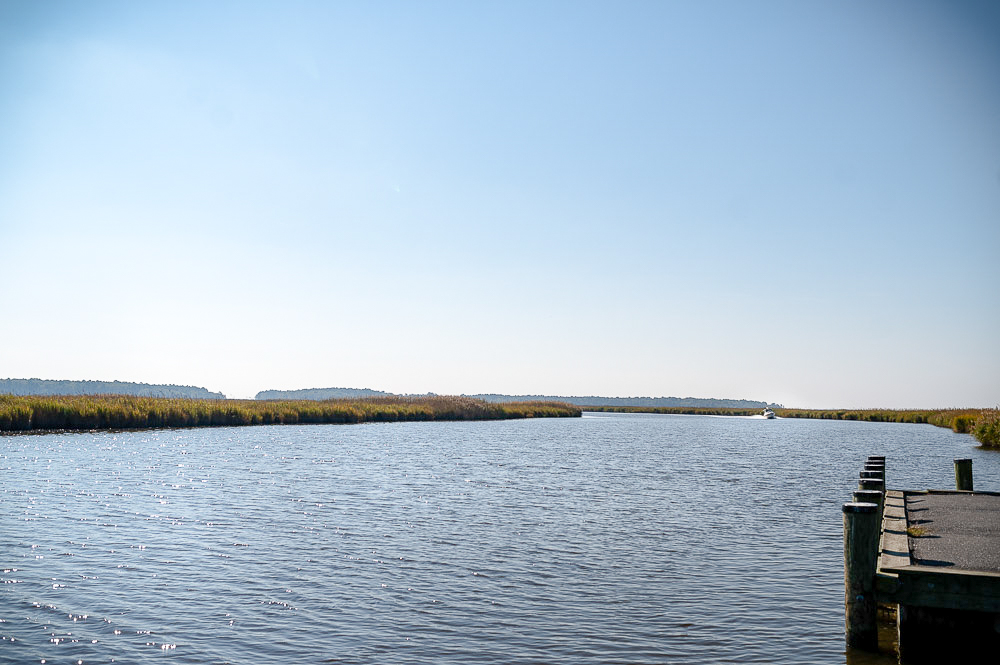 Unlike it's more developed/well known "neighboring city" of St. Michael's, Maryland, Cambridge is a more relaxed Chesapeake town. Great for those who love the outdoors or just being near water. I love the quaint Main Street and how the area is steeped in history. If you are looking for a nearby day trip or weekend getaway, I highly recommend you visit Dorchester County's, Cambridge, Maryland.