The more you learn about photography, the more you understand that lighting is EVERYTHING. If you are taking photos outside, you will notice how the time of day that you are shooting will impact what your photos will look like…for better or worse.
A skilled photographer will be able to shoot at any time of day because they know where to position their subject and how to control the light. This is very important for wedding photographers, who shoot for about 9-12 hours in one day in a variety of lighting situation and mostly on the fly. However, if a photographer is aiming for a specific look they will need to shoot at a certain time of day in order to obtain specific looks. The lighting from the sun at 12 pm is much different from the lighting at 6 pm.
No matter if you are shooting with a cell phone or a fancy professional camera, keeping in mind the lighting at that time of day will have the biggest impact on your images. You can photograph an alley way with dumpsters but if you photograph it at the right time of day, that alley way can look beautiful.
Below are images I took of my daughter while on vacation this summer. These images were taken at the same location with the same lens but at different times of the day.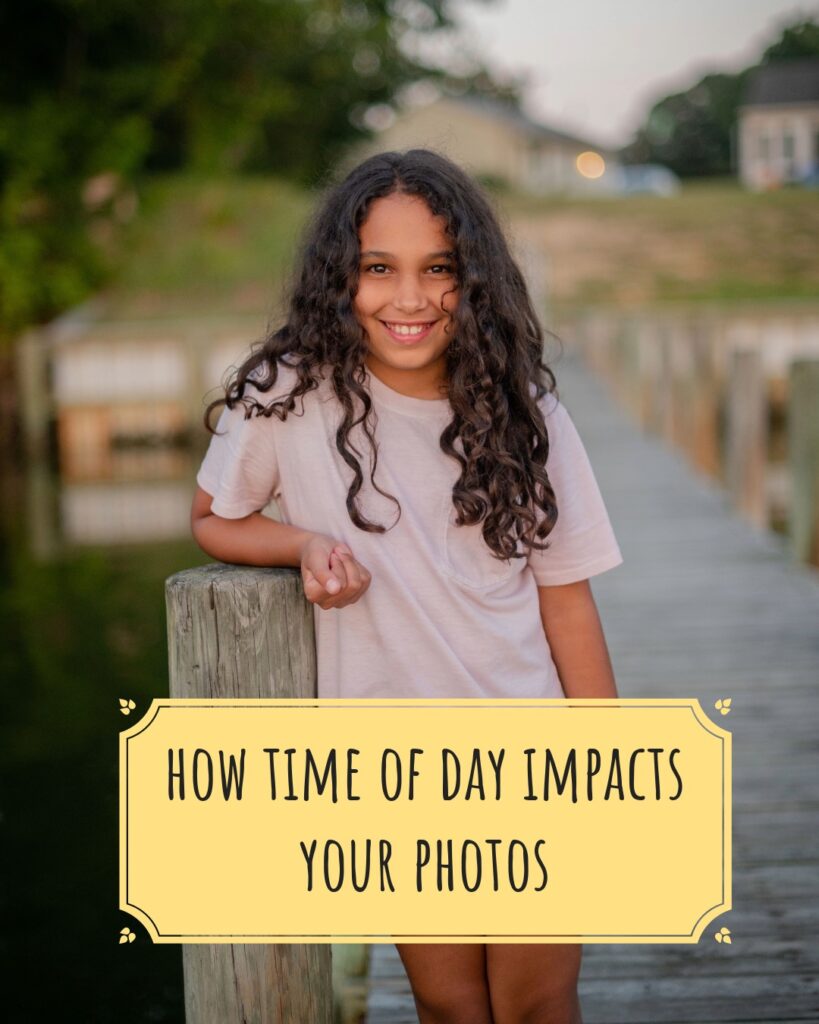 Example #1: 8:15am
Taking photos closer to sunrise will allow the sun to be soft and pretty. This minimizes eye squint and is complimentary for skin tones. I enjoy shooting at this time of day but it is not easy to get a family up, fed, dressed, and to a photoshoot this early in the day. Typically families with very young children are a better candidate for a session at this time of day, not sleepy (and rapidly growing) teenagers.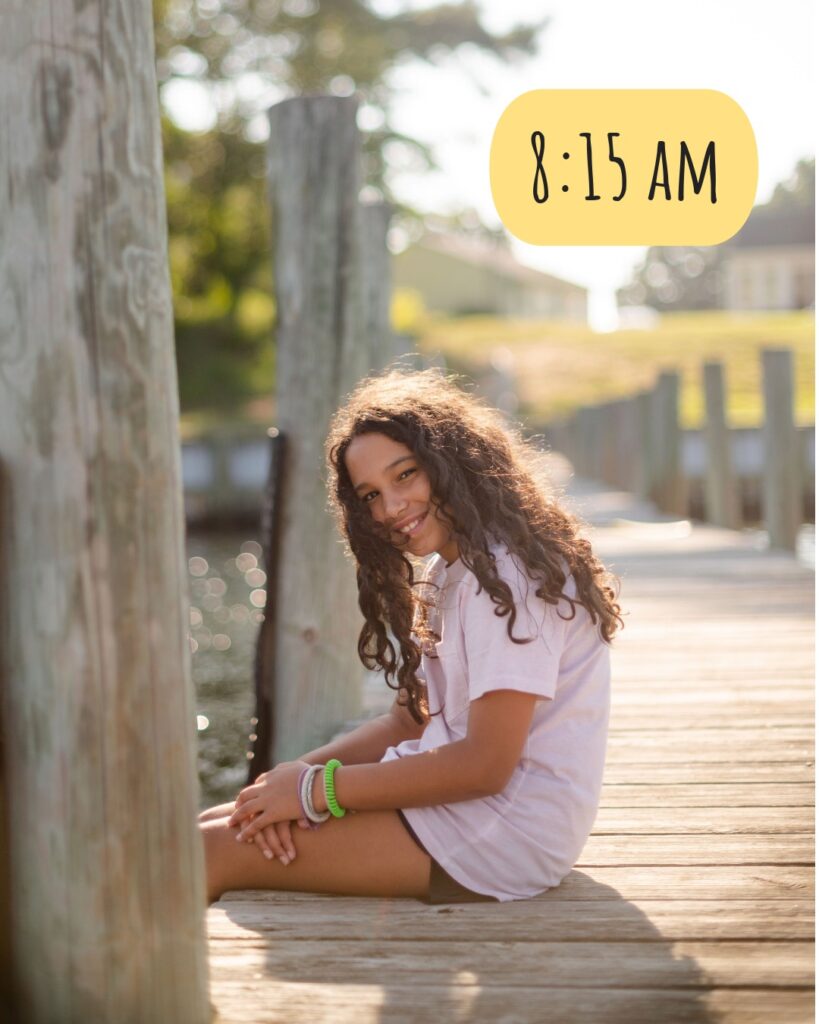 Example #2: 11:45am
Sometimes I do a morning session starting at 9:00am and will shoot until 12:00pm. The 11am-12pm time frame can still get some nice lighting but we are starting to transition into more severe lighting condition as the sun moves higher in the sky. Positioning is more crucial at this time of day to get a good shot.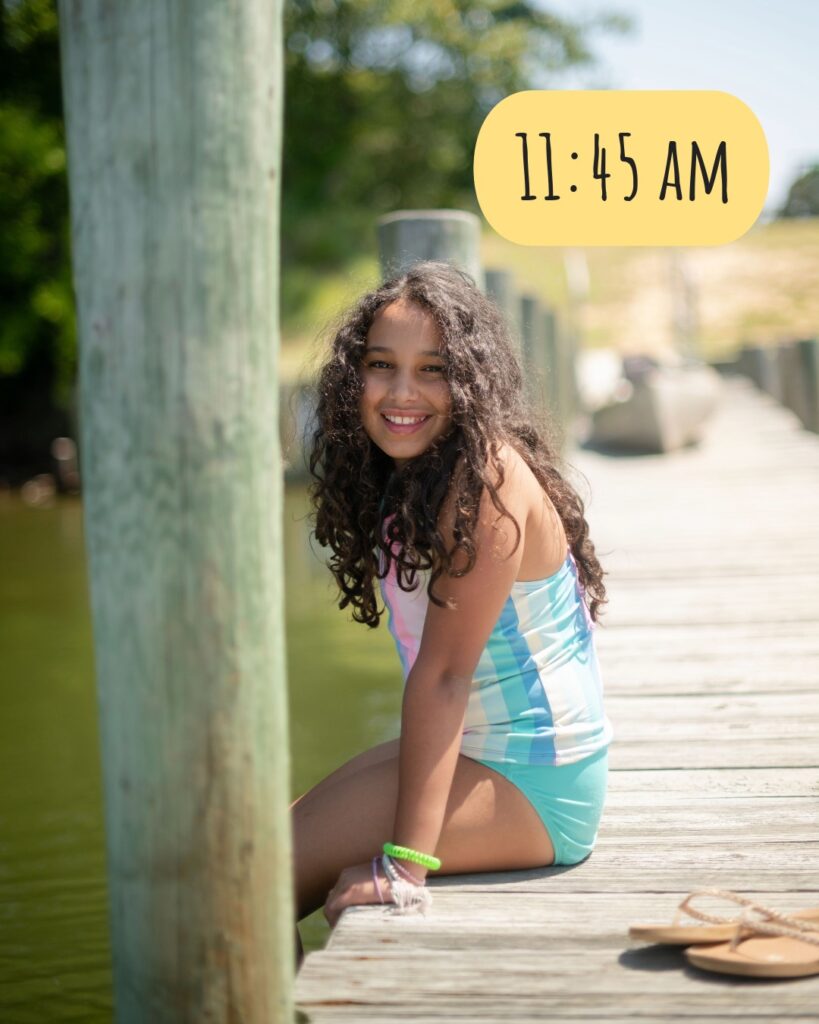 Example #3: 2:45pm
Mid day shooting is the most challenging since the sun is high and very bright. That does not mean that you can not shoot at this time of day, you just need to be more selective with where your subject is standing. When taking these photos of my daughter, she was struggling not to squint. If I was shooting for a client, I would've taken them back towards the trees behind her and get into some shade. (I'll cover that topic in another post.). We are starting to transition out of the period of harsh lighting but you can see how different the light is even from 11:45am.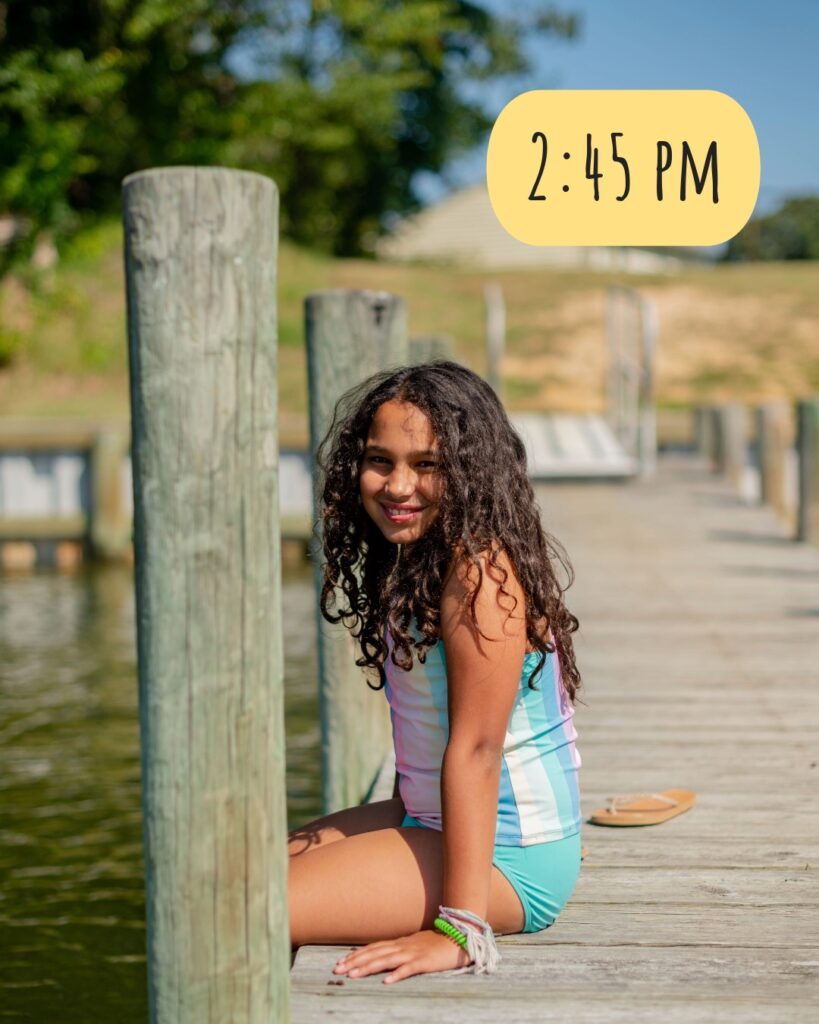 Example #4: 6:45pm
At 6:45pm, we are moving into the golden hour. The golden hour is the 1-2 hours before sunset where you get that beautiful, flattering lighting from a setting sun. I took these images in August so the golden hour is later than it would be in say, November or February, when the sun sets much earlier. You can look up that day's sunset time in order to plan on shooting during the golden hour. This type of lighting is not only very pleasant and complimentary, it also creates a lot of flexibility on where you can photograph your subject. They can move around much more without worry about squinting or harsh shadows.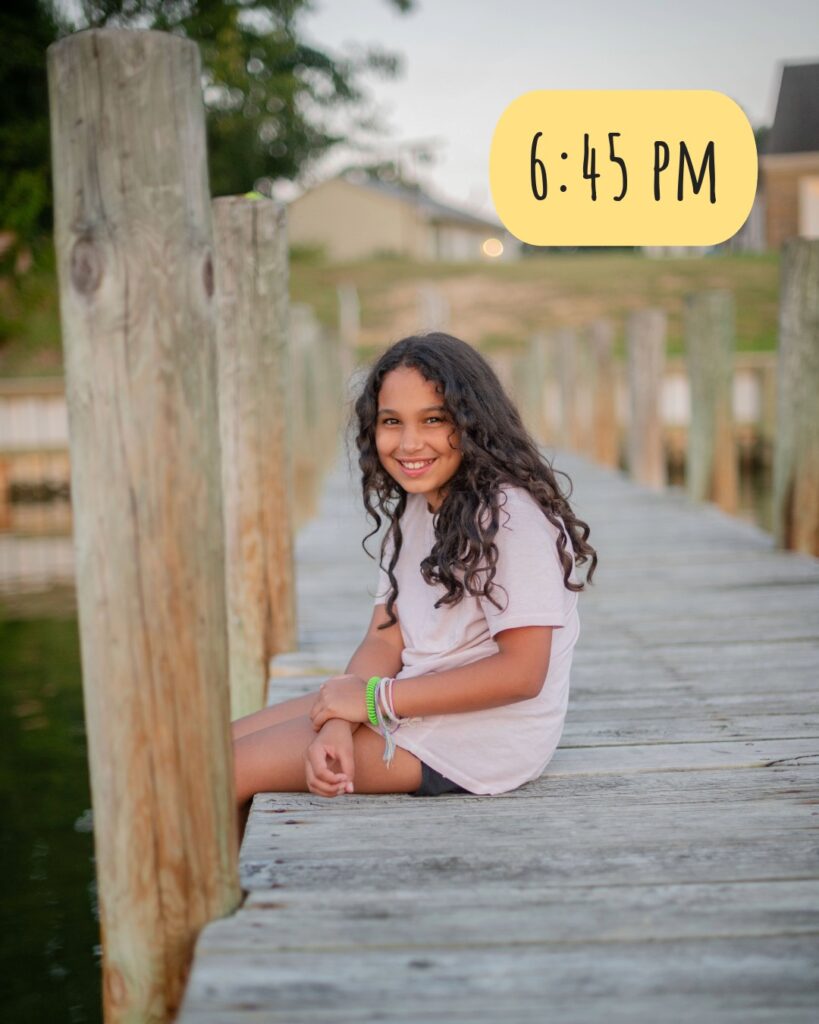 Below you can compare the lighting from different times of the day.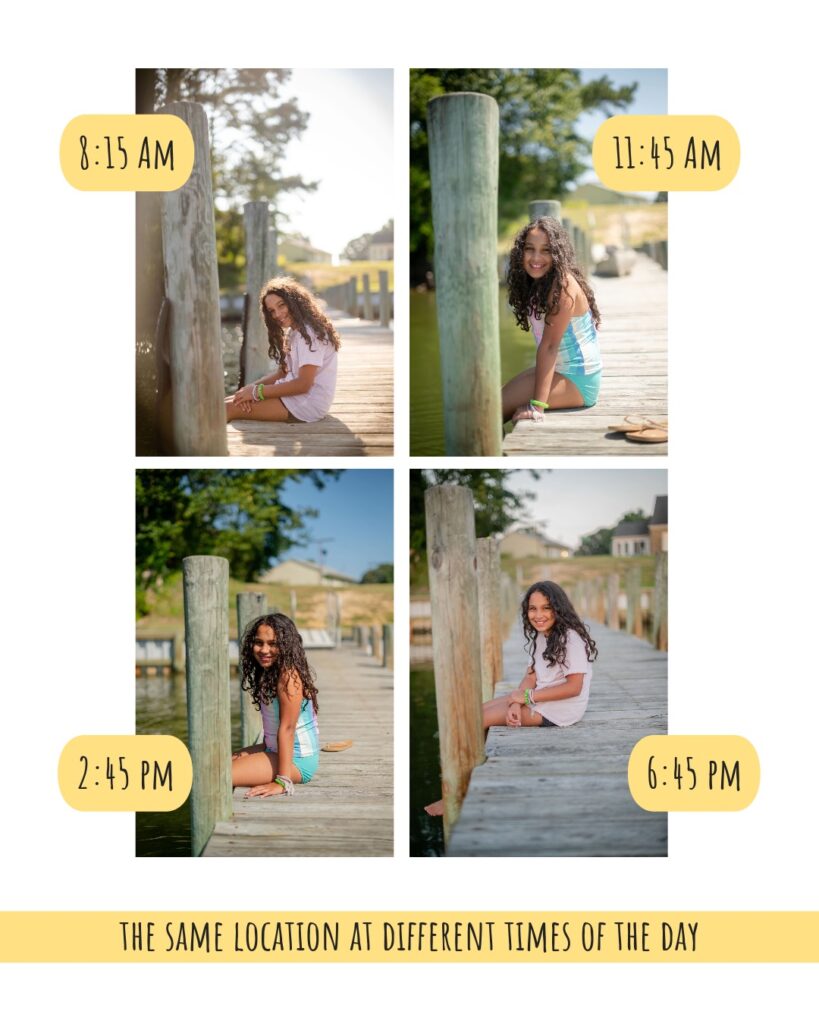 With all of that being said, everyone has their own preference when it comes to lighting. Also, if you are trying to achieve a certain look, mid day lighting might be just what you need. Often, especially when traveling, I am shooting all throughout the day and need to make the most of the circumstances I am getting. Sometimes I need to improvise and other times, I will return to an area at an ideal time because I know it will have such a wonderful impact on the shot. Personally, I love shooting at the beginning and end of the day. This allows me to incorporate backlighting into my shots, which is like adding jewelry to an outfit, it just completes the image.
During the same vacation, I took a walk on our Main Street to photograph some of the beautiful homes on the street. The lighting during our walk back was quite pretty and I was thankful I am obnoxious about bringing my camera everywhere. I feel like the lighting just brings out all of the character of this beautiful home. What do you think?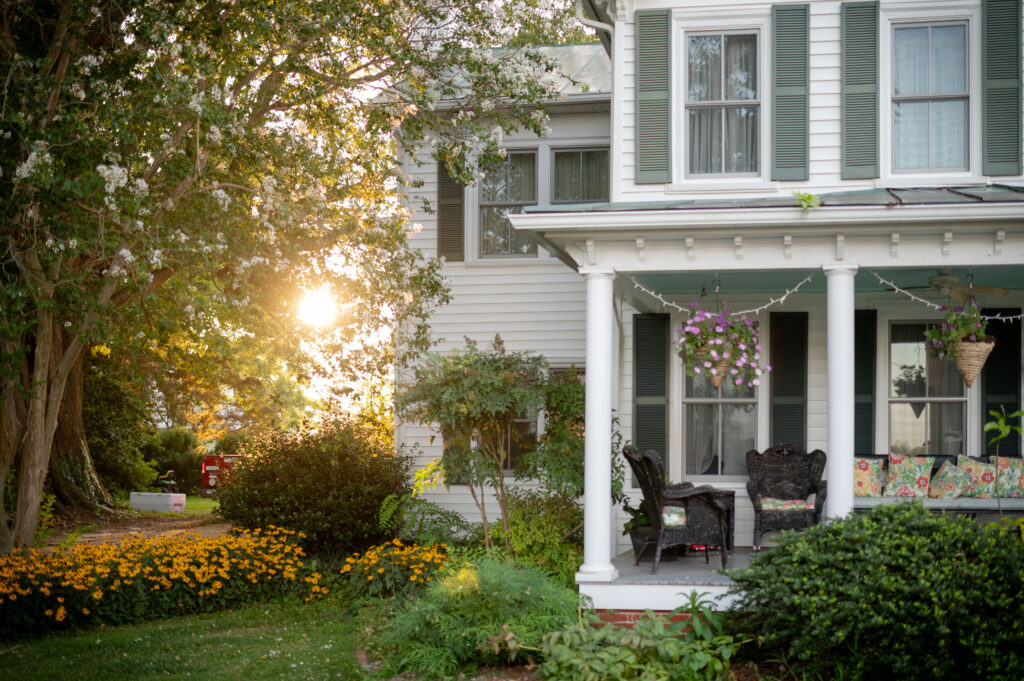 ---
I actually posted about this subject on social media and was asked to provide more content like this in the future. Knowing how light affects the shot is a powerful tool in getting a good shot no matter your circumstances. If you are at the beginning of your photography journey (or just feel stuck in your journey), I know the learning process can be overwhelming and I am here to teach you some tidbits that you can practice with your own photography.
Please feel free to leave a comment below with anything you would like to learn about?
Warmly,
Claire